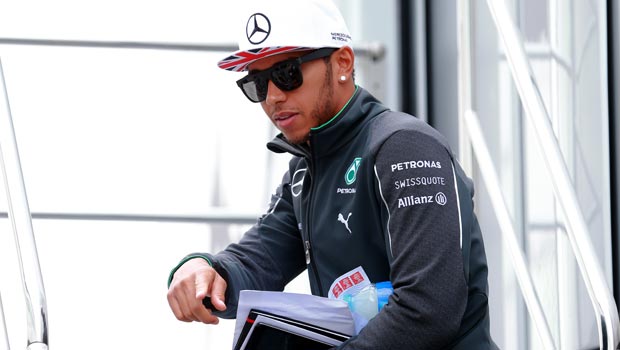 Lewis Hamilton has claimed Mercedes team-mate Nico Rosberg is "not really German" ahead of the Germany Grand Prix later this month.
Hamilton cut Rosberg's lead at the top of the Drivers' Championship to just four points with his victory at Silverstone, as Rosberg was forced to retire with gearbox issues and missed out on the points completely.
Following the 2008 world champion's British GP victory in his home race, Hamilton now wants to beat Rosberg at Hockenheim.
Hamilton feels Rosberg considers the Germany GP as a home race but he has upped the stakes in their seemingly friendly rivalry by stating his team-mate, who has competed under the Finnish and German flags during his career and spent much of his youth in Monaco, is "not really German".
"To be honest, Nico has never been in Germany, so he's not really German. I remember when we used to race during karting, he never stood next to a German flag – not ever," he said when asked about the support his team-mate can expect at Hockenheim.
"We would have to go on the start line and all the drivers would have to stand next to a grid girl in a line. The girls would be holding the flags or a sign saying Hungary or whatever, and he always stood by the Monaco one. He never stood by a German flag.
"I know he has grown up in Monaco so Monaco is his home town. It will be great to win in Germany. He is German, Finnish, Monégasque or whatever, so he will get that support in Monaco and in Germany he has always had great support there. It is always good to beat others on their home turf."
Hamilton is priced at 1.60 to win the Drivers' Championship, while Rosberg can be backed at 2.20.
Leave a comment