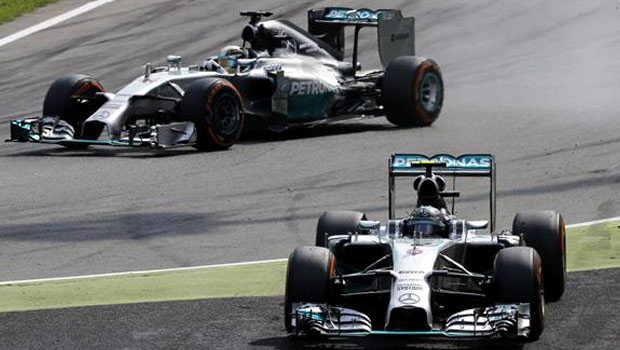 Lewis Hamilton believes Mercedes team-mate Nico Rosberg is beginning to struggle under the pressure of leading the Drivers' Championship.
The German held a 29 point lead going into Sunday's Italian GP but Hamilton's victory means that lead has been cut to 22, with Rosberg now 2.00 to win the Drivers' Championship outright.
Rosberg ran wide at the first chicane on lap 29 at Monza this weekend, which allowed Hamilton to overtake and seal the victory.
The 2008 world champion had been rapidly closing in on Rosberg since his pit stop, with the German admitting after the race that Hamilton's pressure had caused his mistake.
Rosberg also ran wide in the Canadian GP earlier in the campaign under the pursuit of Hamilton, who has now questioned whether his team-mate has the stomach for a fierce title battle.
"I did it a couple of races ago and he doesn't seem to like it so I'll try it a bit more," said Hamilton, who is 1.80 to win the Drivers' Championship.
"I knew that was the best time to put pressure on him.
"All those experiences you have, like Canada, you know that if you apply the pressure that it is a possibility. You never know if it's going to happen, but all you can do is try."
There are six races remaining for Hamilton to overhaul Rosberg's lead, with the final grand prix in Abu Dhabi worth double points – meaning there are still 175 points to play for.
Hamilton remains upbeat on his chances of adding a second drivers' crown to his collection and he hopes for better luck in the remaining races, as he had to fight back at Monza after losing the lead at the start and dropping to fourth due to a glitch in his car's electronic systems.
He added: "We've got a long way to go, but one step at a time. The support I've had from the fans and family has been incredible. I'm going to take that energy and try and move forwards. I'm still looking for that weekend where you don't have any problems."
Leave a comment