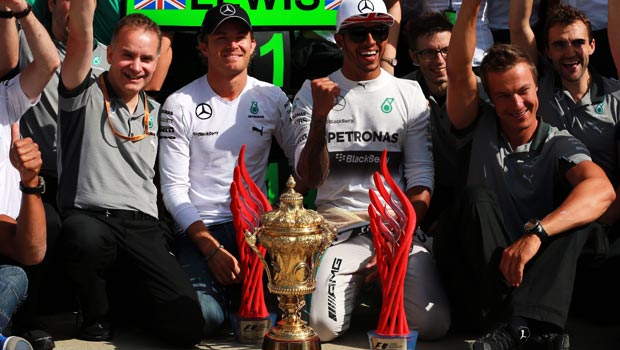 Lewis Hamilton celebrated his British Grand Prix win at Silverstone by warning Mercedes team-mate Nico Rosberg that he is now in "attack-mode" to ensure he finishes ahead of him in the battle for the Formula One drivers' championship.
The 29-year-old, who last won his home race in 2008 when he went on to lift the drivers' crown, recovered from his qualifying error to move up from a sixth-placed start on the grid to second behind Rosberg inside the opening four laps on Sunday.
Hamilton switched tyres and was hunting down the leader with an epic battle for the line brewing until Rosberg suffered his first retirement of the season on lap 30 when his car was struck by a gearbox issue.
And while the British driver was "gutted" not to have a "wheel-to-wheel" race with his German team-mate, he was delighted to win in front of his home fans following a six-year wait.
Looking ahead to the German Grand Prix in a fortnight and beyond Hamilton is determined to rectify the problems he has been enduring in qualifying since he last managed a pole position in Spain back in early May.
"I really need to take a couple of steps back and analyse," Hamilton said on Sky F1.
"Qualifying has always been my strength above all else and in the last three races or so it's been pretty shocking. So I need to have a word with myself, fix it for the next race, and maybe change my approach – but I will do something."
Hamilton, who is now just four points behind Rosberg in the drivers' standings, added: "We can now draw a line under the last nine races. It's attack-mode now."
Hamilton is 1.60 to win the World Drivers' Championship, while Rosberg is 2.20.
Leave a comment