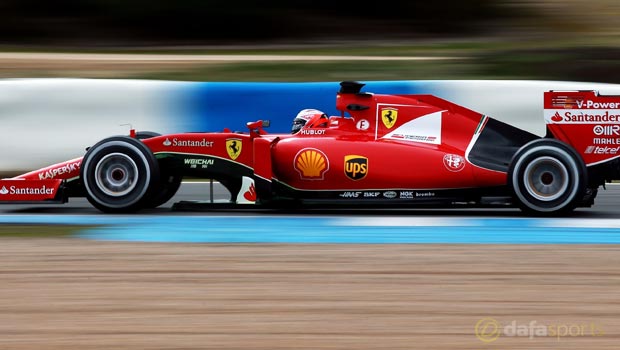 Kimi Raikkonen is convinced his Ferrari team will be able to challenge Mercedes for silverware this season.
In 2014, following sweeping regulation changes, the Silver Arrows dominated throughout, winning all but three races as the team eased to the Constructors' Championship title and Lewis Hamilton sealed the drivers' prize in the final race of the campaign ahead of team-mate Nico Rosberg.
Mercedes appear to be the team to beat again this season after two wins in the opening three races and three pole positions.
However, Sebastian Vettel managed to take maximum points in Malaysia and the Scuderia star currently splits leader Hamilton and Rosberg in second spot in the drivers' standings, and Raikkonen feels Ferrari can challenge at the front of the grid in 2015.
"I don't see a reason why not," Raikkonen told Sky Sports. "We have made big gains and we will continue to make big gains during this year.
"Obviously everybody will improve, so it depends what the rest are doing, but we are definitely going the right way and doing the right things.
"It is about being patient. We need time, we cannot make miracles overnight.
"Sebastian showed we can win, but it depends as one circuit may be better for one team and the next could be a different story.
"We just need to be up there when something happens to them, or the conditions change, but I really feel on speed we will get there to regularly beat them."
Raikkonen is currently fifth in the standings on 24 points behind Felipe Massa of Williams.
Leave a comment