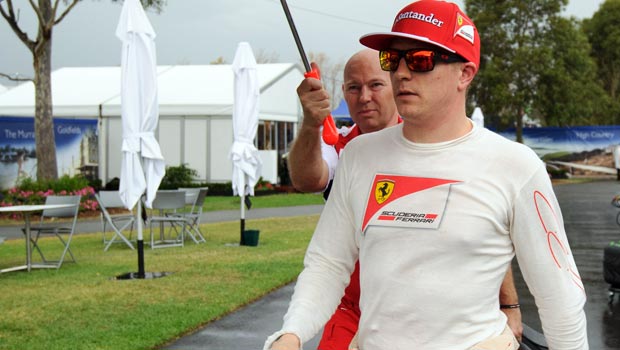 Kimi Raikkonen feels circumstances beyond his control have impacted on his form following his return to Ferrari.
The Finn is the last person to win the Drivers' Championship for the Scuderia, having lifted his only title with Ferrari in 2007, but he has failed to deliver after returning to the team this season.
Many believed Raikkonen's arrival at Ferrari would lead to a fierce battle between the 34-year-old and team-mate Fernando Alonso, but that has not been the case as yet, with the Spaniard outscoring Raikkonen in every race to date this term.
However, Raikkonen had been on course to finish ahead of Alonso in Monaco last time out but a clash with Max Chilton during a safety car period led to his retirement.
Raikkonen feels a number of issues have impacted on his performances this term and he expects results to improve as the season progresses.
"I have driven well many times, but there's always been something going wrong in the races – like punctures from other people hitting me – and it's just never come together really," Raikkonen is quoted as saying by ESPN.
"It's a shame. Again we had a good position [in Monaco] but got a puncture so it's just bad luck. Small things go wrong and make a massive difference in the end."
Raikkonen concedes Ferrari are way behind Mercedes in terms of pace but he hopes they can close the gap and challenge for race wins in the near future.
He added: "Obviously we need to improve in a lot of areas. We've done a lot of things, particularly with the engine and stuff like that to improve already, but we are still lacking the speed we need to compete with Mercedes, they are still quite a way ahead of us. We know what we have to do but those things are not easy to fix, it just takes time.
"Once we get a good feeling with things I'm sure it's going to be a lot better. But until we get the results and things fixed we have to keep fighting and hopefully be a bit more lucky in the future."
Lewis Hamilton finished second in Monaco and the Mercedes star can be backed at 1.55 to get back to winning ways and secure victory in Sunday's Canadian Grand Prix, while The Field (any other driver) is available at 2.47.
Leave a comment