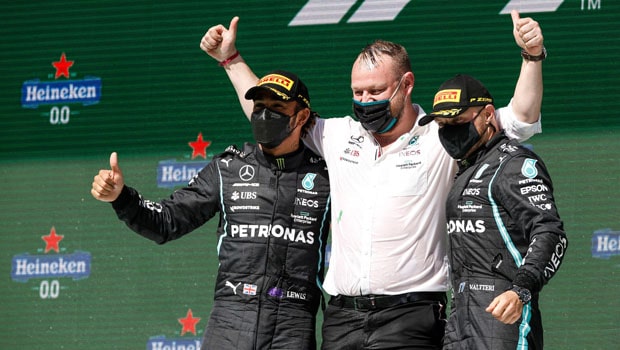 Lewis Hamilton claimed his second win of the season after overtaking Max Verstappen to win the Portuguese Grand Prix. Hamilton produced a finishing time of 1:34:31 at the Algarve International Circuit there in Portugal to remain at the top of the Drivers Standings. Red Bull's Verstappen finished second, for the second time this season, while Hamilton's teammate, Valtteri Bottas ended the race in third place.
Hamilton started the race right behind Bottas after the latter finished ahead of Hamilton on Saturday to claim pole position. Verstappen was behind the two Mercedes cars. But a safety car restart in the second lap, after the second lap, saw Verstappen edge past Hamilton, putting him in second place. It was not until lap ten that Hamilton was able to overtake Verstappen, putting him behind Bottas again. Bottas maintained his lead for a while until lap nineteen when Hamilton zoomed past him.
The seven-time world champion did not give up his lead for the remaining laps in the race. In lap 35 and 36, Verstappen and Bottas made pit stops respectively. Bottas was soon back on track, as Verstappen followed seconds later. Willing to finish best of two, Verstappen edged past Bottas, and chased Hamilton, without ever passing him, till the end of the race.
The win marked Hamilton's 97th Grand Prix victory and puts him in a good position as he aims for his eight-world championship title. He sits at the top of the Drivers Standings with 69 points, eight points ahead of Verstappen who has 61 points. Next on the leaderboard is Lando Norris with 37 points. This also means that Mercedes currently leads the Constructors standings with 101 points, followed by Red Bull with 83 points.
Speaking after the race, Hamilton commented, "That was such a tough race, physically and mentally, keeping everything together. I didn't quite get as good a start as Valtteri and then lost out at the restart which was not good. Right on my limit. Great race."
The next GP is in the neighbouring country of Spain on May 9.
Leave a comment