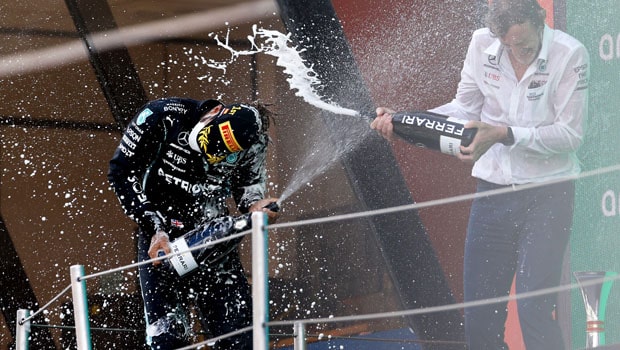 Seven-time world champion, Lewis Hamilton, has won his 98th race after claiming victory at the Spanish Grand Prix. This comes a day after Hamilton won his 100th pole position, being the first driver to reach such feat. The Spanish GP is his third victory in four races so far this season. On Sunday, we saw the usual rivalry between Mercedes' Lewis Hamilton and Red Bull's Max Verstappen come into play again, but Verstappen had to settle for second place for the second time in a row. Hamilton's teammate, Valtteri Bottas also finished at third place for the third time this season.
Hamilton had the pole position advantage in this race after losing it in the last race at Portugal. But he quickly lost it after Verstappen sharply overtook him and had the lead for most of the race.  Mercedes had to adopt a two-stop strategy that worked. When Hamilton entered the race again with a new set of tyres, he was 22 seconds behind Verstappen but was finally able to catch up with the Dutchman in the sixtieth lap with six more laps to go. Once Hamilton had the lead, he made sure to press harder as he sailed to victory with a finishing time of 1:33:07.680. Verstappen finished 15 seconds later while Bottas entered 26 seconds after Hamilton. Despite the second-place position, Verstappen had the record for the fastest lap in the race.
Hamilton has now won the Spanish GP five times in a row, being the second driver to achieve such a feat in a GP. He now sits at the top of the Driver Standings with 94 points, followed by Verstappen with 80 points. Bottas, also maintaining third place here, has 47 points. Mercedes is still at the top of the Constructor Standings with 141 points, followed by Red Bull with 112 points, while McLaren maintains third place with 65 points.
Leave a comment