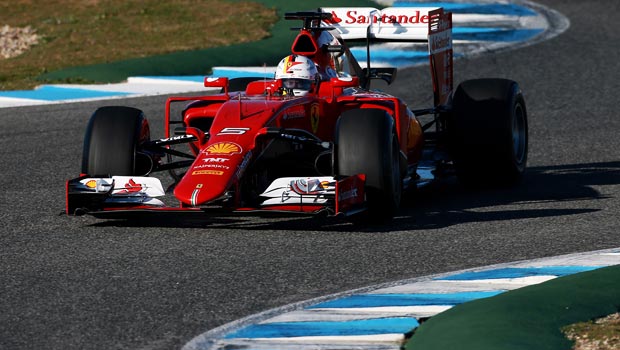 Ferrari's Sebastian Vettel believes his new team should be happy after they set the pace at Jerez on day one of winter testing.
The four-time world champion was in the 2015 car for the first time and he showed no signs of rustiness as he tried to settle into his new surroundings.
The new Mercedes car also looked impressive as German Nico Rosberg went third fastest after completing 157 laps. Rosberg completed more than twice as many laps than any other driver as the Silver Arrows car continued to look head and shoulders above the rest of the field.
There was no such luck for former Ferrari man Fernando Alonso as he finished 18 seconds off the pace in his new McLaren.
Vettel's time of 1:22.620 ensured he ended day one on top and he believes the Italian giants should take the positives from the day.
He told reporters: "I had the opportunity over the winter to get to know the team, but of course this was the first proper day. We can be happy that we did quite a decent amount of laps.
"We had some problems with telemetry but that's what when the car is new you come back in, you check and take it apart. These things take time, it would have been nice to have done more laps, but I think we can be quite happy with the first impression. It was quite good.
Obviously it's difficult to say at this stage, but for day one I think we can be reasonably happy."
Leave a comment