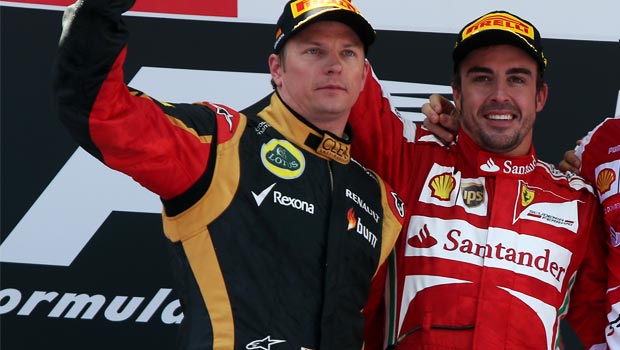 Share this story

Claim your Bonus
Get 100% up to SGD100 Bonus on your First Deposit

Ferrari president Luca di Montezemolo has issued a warning to drivers Fernando Alonso and Kimi Raikkonen, reminding the pair that they drive for the team and not for themselves.
The new-look Scuderia line-up certainly appears formidable on paper, with Raikkonen replacing Felipe Massa, who is now at Williams.
However, there have been questions raised as to whether the two former world champions will be able to work together as team-mates, with both known for their ambition and occasional ruthlessness.
Montezemolo, however, expects Alonso and Raikkonen to prioritise the team's needs over their own, although he concedes pairing two such strong characters could be "dangerous" for Ferrari.
"Putting together Alonso and Raikkonen could be dangerous. But in F1 everything is a potential danger," said the Ferrari president.
"I think that Fernando knows he drives not for himself but for Ferrari. And Raikkonen knows that he is in the second half of his career, two very important years for him, with experience and responsibilities. I am confident they will both do what is good for Ferrari."
Montezemolo's words have been echoed by team-manager Stefano Domenicali, who insists both drivers know what is expected of them.
He said: "They have the honour and responsibility of driving for Ferrari and every driver knows that he has to drive for the team and not himself.
"If a driver does want to drive for himself, there are many possibilities. They can do their best for their own team, Ferrari, or they can go to a different team. In Ferrari these are the rules."
Alonso won back-to-back championships in 2005 and 2006 but has not managed to capture a third title, having finished second in the Drivers' Championship in three of the four seasons he has spent with Ferrari.
Raikkonen, 34, won the championship in 2007 in his previous spell with Ferrari, the last time the Italian team managed to secure the drivers'
title.
The Finn left Ferrari in 2009 to compete in the World Rally Championship but returned to Formula 1 with Lotus in 2012, with Raikkonen coming third in the drivers' standings in 2012 and fifth last season.
Leave a comment