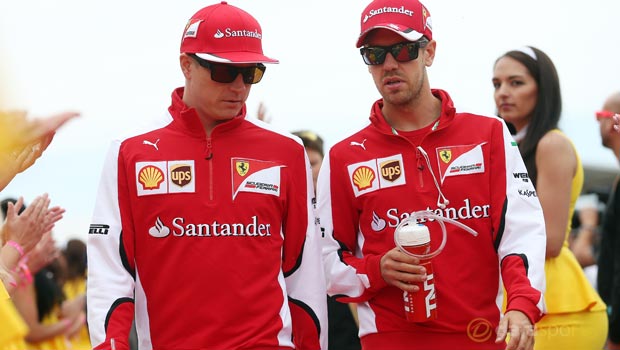 Sebastian Vettel believes the strong bond and lack of interfering egos between himself and team-mate Kimi Raikkonen is an excellent platform for Ferrari ahead of this weekend's Italian Grand Prix.
The Scuderia are preparing to renew hostilities with Mercedes at their home race in Monza and with Raikkonen having inked a contract extension to remain in red for another season, four-time world champion Vettel says Ferrari are in a good place.
While Mercedes drivers Lewis Hamilton and Nico Rosberg have an often prickly relationship, Vettel insists the same cannot be said of Ferrari.
"We have a very good relationship and it brings stability. One of the best things is that we work together because neither him nor l have ego. Nothing has changed since we became team-mates," said Vettel.
Vettel denied having any input into the decision to retain Raikkonen for the 2016 season after Ferrari offered him a new deal despite intense speculation that either Valtteri Bottas or Daniel Ricciardo would be brought in to replace the Finn.
Raikkonen backs up the theory that Ferrari are currently a team in harmony but he says come race-day at Monza, he and Vettel will be desperate to out-do one another on the track.
"I know him well and we have a very good relationship and it's nice," said Raikkonen. "We try to beat each other, but we still can be friends as before, so I think that is also very good for us as a team that we can work very closely."
Vettel is 15.00 to provide Ferrari with victory on home soil at Monza this weekend, a feat they have not achieved since Fernando Alonso won back in 2010.
Raikkonen is 5.00 to secure a podium finish at the Italian Grand Prix.
Leave a comment