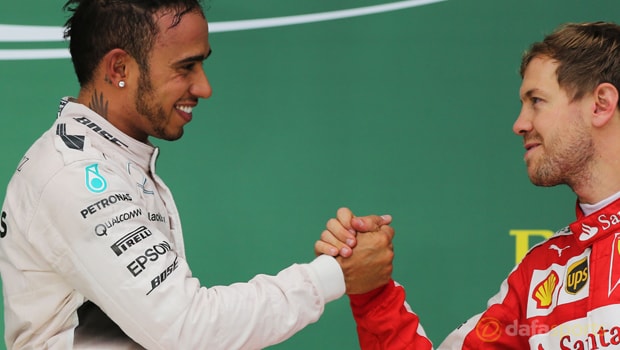 Sebastian Vettel may yet face further punishment for his controversial collision with Mercedes driver Lewis Hamilton at the Azerbaijan Grand Prix last weekend.
The FIA is to hold a meeting on 3 July to "further examine the causes of the incident to evaluate whether further action is necessary", with their verdict set to be announced ahead of the following week's Austrian Grand Prix.
Vettel was unhappy with Hamilton's behaviour during a safety car stoppage in the incident-packed race in Azerbaijan, accusing the Briton of 'brake-testing' – deliberately slowing in front of him – as they prepared to re-start the race from behind the safety car.
Vettel then pulled alongside Hamilton and drove his car into the Mercedes, ensuring that they banged wheels.
Four-time world champion Vettel was given a 10-second stop-and-go penalty and three points on his licence for driving into Hamilton, but could now find himself in further trouble.
Vettel was warned by the FIA last year that he could face a disciplinary tribunal for any further misdemeanours after he swore over the radio at race director Charlie Whiting during the Mexican Grand Prix.
Three-time world champion Hamilton is not expected to face any further sanction for his part in the incident.
Hamilton's car telemetry data was analysed by the stewards on Sunday and he was cleared of any wrongdoing.
Vettel, last crowned champion in 2013, leads second-placed Hamilton by 14 points in the current drivers' standings, with Azerbaijan Grand Prix winner Daniel Ricciardo fourth behind Hamilton's Mercedes team-mate Valtteri Bottas.
Hamilton is 1.70 to be crowned world champion this season while Vettel is 2.10.
Leave a comment