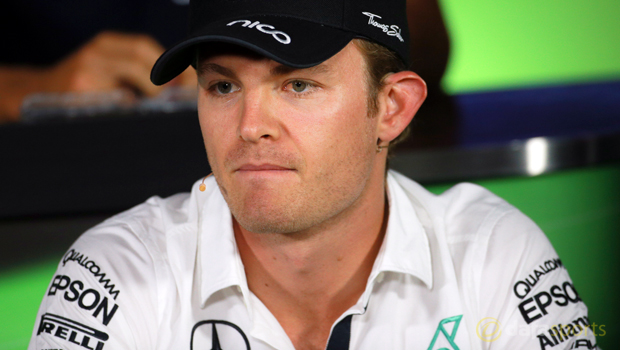 Nico Rosberg has warned four-time constructors' championship winners Red Bull should not be overlooked for next season.
Red Bull's challenge has diminished since the glory days of their dominance from 2010 through to 2013 in Formula 1, but the German driver believes they could make a comeback.
Consistency and reliability were two of the missing factors for Red Bull pair Daniel Ricciardo and Daniil Kvyat during last season's championship as Mercedes once more dominated.
Lewis Hamilton surged to his third career drivers' title with Silver Arrows team-mate Rosberg his nearest pursuer.
Rosberg says a team with Red Bull's expertise and track record should not be easily overlooked.
"You always have to reckon with Red Bull," Rosberg told Motorsport-Magazin.com. "They are a very strong team.
"Up to one and a half years ago, they were absolutely dominant, simply unbeatable. They could always make a comeback, so we have to keep an eye on them."
Red Bull have voiced concerns during the off-season that Mercedes' dominance of the sport is turning spectators away from the sport.
The main challenge to Mercedes' stranglehold in 2016 looks likely to come from the Ferrari duo of Sebastian Vettel and Kimi Raikkonen.
While Hamilton led the way for much of last season and rarely had any doubts about securing his third world crown, Rosberg finished the campaign strongly and will have big hopes of a sustained challenge in the new season.
Mercedes team boss Toto Wolff admitted recently that total dominance under team orders could be damaging in the long-term for F1.
While Mercedes have had clear guidelines for Rosberg and Hamilton in recent seasons, Wolff says they could allow them to lock horns freely in the future.
"I want the [team] dominance to continue but if it were to continue like this I need to think what we do so we do not become the enemy," Wolff told the Mail on Sunday in an interview.
"Maybe it's about unleashing them completely. Give them their own strategy."
Hamilton is 1.60 to be F1 Drivers' champion in 2016 while Rosberg is 3.60.
Leave a comment