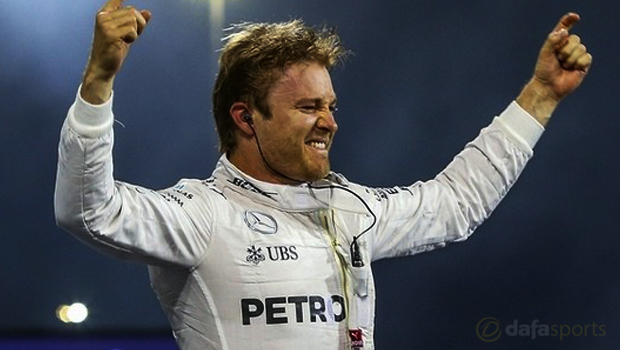 Nico Rosberg is refusing to get carried away after he opened up a 17-point lead in the Formula 1 Drivers' standings by winning the Bahrain Grand Prix.
The Mercedes driver overhauled his team-mate and defending world champion, Lewis Hamilton, to win despite starting behind the Briton on the grid, just as he did in the season opener in Melbourne.
Having ended last season with a hat-trick of race wins, Rosberg has now won five grand prix on the trot but he is anticipating a fightback from Hamilton sooner rather than later.
"I am not rejoicing in his issues, I am really focussed on doing my job and getting the perfect start as I did today and beating him in that way," said Rosberg.
"Lewis is going to come back, I know that because he has been so strong in the last two years."
The duelling Mercedes team-mates have in the past been accused of focusing too much on their personal battle for supremacy.
Rosberg denies his current success is owing to any change in his attitude towards what Hamilton is doing and says he is just looking forward to getting to China for race three of the 2016 season.
"I haven't changed my approach in any way. I was flat out last year and it didn't go my way, now in the first two races it has gone much more my way," he added.
"I'm just enjoying it at the moment. I'm privileged to be driving this car, I go to China and I know I will be fighting for the win and that is such a great feeling to have. It's great to celebrate with the team and it stops there for me. I'm just living in the moment."
Rosberg is 2.20 to win the F1 Drivers' Championship this season with Hamilton now 1.75 to retain his crown.
Leave a comment