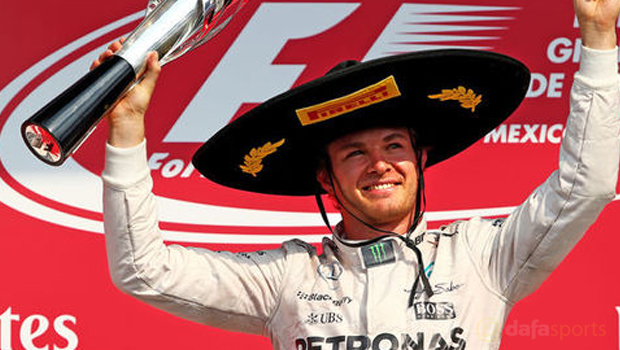 Mercedes team boss Toto Wolff has praised Nico Rosberg for his "perfect" drive to claim victory in Sunday's Mexican Grand Prix.
Rosberg's Mercedes team-mate Lewis Hamilton wrapped up his third world title last weekend in Texas but the German remains determined to finish as high as possible in the standings with just two races of the season left to go.
The 30-year-old sits second in the Drivers' Championship with 272 points, just 21 points better off than third-placed Sebastian Vettel of Ferrari.
Vettel crashed out of the Mexican GP and Rosberg took full advantage to widen the gap as he took the chequered flag for the fourth time this term.
Rosberg showed his tenacious side in Mexico and held off an early attack from Hamilton before growing in confidence and building up a healthy lead.
Wolff believes that the Mercedes duo both performed well in Central America but singled out the drive of Rosberg as "perfect".
Wolff said: "What a fantastic weekend in Mexico and an incredible atmosphere on the podium, probably the best I've ever seen, after a breathless race.
"Our boys just always keep pushing each other to new achievements.
"If one of them gets written off, he bounces back even stronger the next weekend, and that's what Nico did.
"It was an unbelievable weekend: he had the fire in his belly after [finishing second to Hamilton in] Austin and, from the first lap of the race, he was right on it. He did a perfect job."
Leave a comment