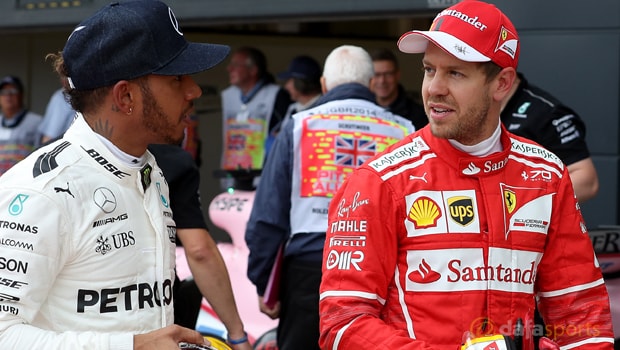 Lewis Hamilton insists there is now more respect between himself and fellow four-time world champion Sebastian Vettel.
Hamilton believes mutual respect has grown since their collision in last year's Azerbaijan Grand Prix.
They are headed for Baku again this weekend but the Briton says there is much less frost in their relationship now.
Running under yellow flags at the head of the field behind a Safety Car last year, an enraged Vettel drew up alongside Hamilton and rammed into the Mercedes after incorrectly suspecting he had been brake tested.
Vettel incurred an in-race penalty while he later took full responsibility for the incident when hauled before FIA president Jean Todt to explain himself.
Hamilton labelled the German 'a disgrace' after Baku last year.
He trails Vettel by nine points after this season's opening three rounds but the world champion says there is mutual respect, given how the aftermath of that heated moment played out.
"We all make mistakes but it's more so how people handle it and how they progress [that] is what you can really learn from. He's continued to progress as the champion that he is.
How he presents himself, how he speaks, he continues to grow and the words that he uses today," said Hamilton.
"The respect has grown, actually, a considerable amount since then. I'm sure it will continue."
Hamilton is favourite at 2.15 to win this weekend's Azerbaijan Grand Prix while Vettel is next best at 2.75.
Leave a comment