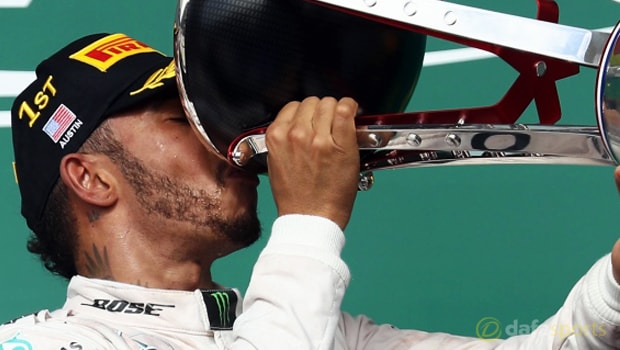 Lewis Hamilton has vowed to keep pushing all the way in the Drivers' Championship after winning Sunday's United States Grand Prix.
The Brit, who is 3.80 to top the standings, made the most of starting on pole to cruise to a fourth win in five years in Austin and close the gap on Mercedes team-mate Nico Rosberg to 26 points.
Rosberg himself recovered from a poor start to finish second, while Daniel Ricciardo claimed third for Red Bull.
The focus was understandably on Hamilton though and with three races to go there is still time for him to get the better of his colleague by winning a third straight world title.
However, with the situation not in his hands, he will need to hope for a few slip-ups from the German, who is the 1.25 favourite to win the title and to ensure he is ready to take his chances when they arise.
The 31-year-old admits he has been reinvigorated by his success in Texas and has vowed to do all he can to win his fourth career Drivers' Championship.
"I'm trying to keep a positive mental attitude," Hamilton told reporters. "There are still points available and anything is possible.
The moment you give up is the moment you lose. I've never given up in my life and I don't plan on doing so now.
"History has shown lots of ups and downs and changes [in previous years], and if you look at history there have been times where it is dead certain already, and there have been times where it has flipped."
He added: "I can't control what has happened to this point. It has already been set. All I can do is when I leave this season I know that I did everything with a full heart."
Leave a comment