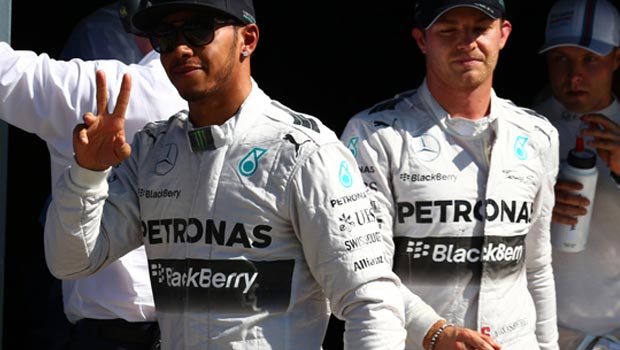 Lewis Hamilton has admitted that he found it awkward when his Mercedes team-mate and world championship leader Nico Rosberg was booed on the podium in Monza after the Italian Grand Prix.
Many Formula One fans have refused to accept Rosberg's apology after he caused a second-lap collision at last month's Belgium Grand Prix when challenging Hamilton for the lead. The Englishman was eventually forced to retire form the race at Spa with a puncture his car suffered in the collision, allowing Rosberg to extend his lead in the title race.
On Sunday, Rosberg's error allowed Hamilton to overtake him at Monza, the German eventually having to settle for second place behind his team-mate.
However, even though the German has apologised for his actions at Spa, there were audible boos when he arrived on the podium and later when he received his trophy.
The 2008 world champion Hamilton admits such a reaction leaves him uneasy, saying: "When I was up there on the podium it felt a bit awkward when I heard they were booing for Nico because I just generally don't like that in sport in general, even in football games.
Away from the pitch and once we come out of the race everyone should be nice to everyone really, that's the feeling I have."
Rosberg admits he has found the reaction upsetting, saying: "It is not nice, but what can I say? I hope that with time they forgive and forget – that will be great. And I have apologised, I cannot do anything more than that."
The next race on the F1 calendar is the Singapore Grand Prix on September 21. Hamilton is 1.72 to win the race and Rosberg 2.90.
Leave a comment