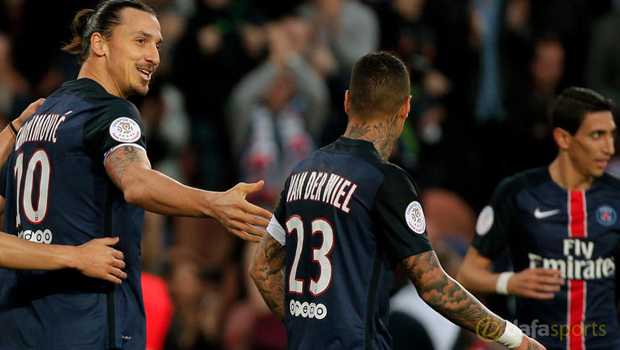 Paris Saint-Germain striker Zlatan Ibrahimovic claims the Ligue 1 defending champions are already well in control of the championship.
The big-spending giants from the French capital are unbeaten in the league so far this season, with 11 wins and two draws from their 13 games, and are already 11 points clear of second-placed Caen with a more-than-healthy goal difference of +25.
PSG remained unbeaten after a 5-0 rout of Toulouse on Saturday in which Ibrahimovic struck twice and it was a positive response from Lauren Blanc's side after losing 1-0 to Real Madrid in the Champions League earlier in the week.
While domination domestically is expected of PSG, they also need to succeed in Europe. They sit second in Group A behind Real Madrid in the Champions League and look likely to progress and Ibrahimovic claims success in France will breed further success.
Ibrahimovic said: "We're on the right track. We played well against Toulouse.
"We played well against Real Madrid in the Champions League on Tuesday too, but unfortunately we lost. Winning immediately afterwards was important. On Saturday we really played well and we won.
"We are in control of the championship, but it's not finished yet. The more we win in Ligue 1, the better our chances in all the other competitions will be."
Ibrahimovic's PSG team-mate Lucas Moura also struck in the victory over Toulouse and he said after the match the club's aim is to "make history" and go unbeaten throughout the Ligue 1 season.
PSG's next Ligue 1 game sees them travel to face Lorient on Saturday November 21. Following that is the Champions League game against Malmo and PSG are priced at 1.29 to win while it 10.00 for Malmo and the draw is 5.25.
Leave a comment