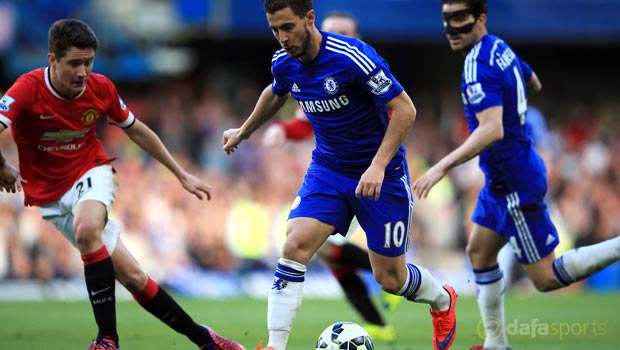 Wonder winger Eden Hazard is to thank for Chelsea's comfortable run to the Premier League title, according to Zinedine Zidane.
The Real Madrid B team coach, widely tipped to take over from Carlo Ancelotti when he either calls it a day or is asked to leave, believes the dominance Chelsea have shown this season is widely down to the efforts of Hazard.
"I enjoy everything he does on the pitch," said former Real star Zidane.
The 42-year-old believes Hazard, who joined Chelsea in 2012 from Lille for £32million, is on a par with Barcelona's Lionel Messi and Real's Cristiano Ronaldo, and Zidane maintains he will only get better.
He told FIFA.com: "There are players I keep an eye on and who I like a lot, like Messi and Ronaldo. They're fantastic players, but I like Hazard a lot too.
"I like the way he carries himself – that decisive streak in him and the fact that he's improving every year.
"He can still get better too, and I think he's a big reason why Chelsea are top of the table."
Hazard, who scored the only goal in the win over Manchester United last weekend which put Chelsea 10 points clear at the top of the Premier League, is up for the PFA's Player of the Year award which will be presented at a dinner on Sunday night.
Hazard is up against Chelsea team-mate Diego Costa, as well as Philippe Coutinho, David de Gea, Harry Kane and Alexis Sanchez for the main prize and is also, along with Coutinho, De Gea and Kane, on the shortlist for PFA Young Player of the Year.
Chelsea are 3.10 to win at Arsenal in the Premier League on Sunday.
Leave a comment