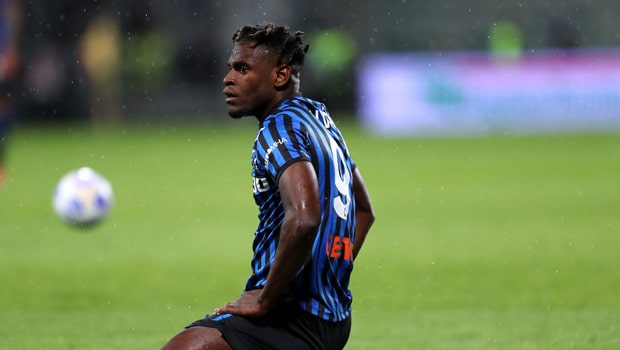 There are indications that Atalanta striker Duvan Zapata might be joining Inter Milan, provided the Nerazzurri gets the money they want for their lanky striker, Romelu Lukaku, who has favoured a move away from the club to Chelsea.
Although it is still speculation, Zapata's agent, Fernando Schena, said it would be fantastic to see the Colombian striker replace Lukaku at the Guiseppe Meaza. He added that he has 'not discussed a move with Atalanta or Inter.
After the rejection of their first offer that seen Marcos Alonso being included in the deal, Chelsea are reportedly preparing a new offer of offer €130m in cash (£110.8m) for the Belgian.
As a result of this development, Italian media has linked many strikers in the league to the club as the Nerazzurri are expected to find a suitable replacement for their top scorer.
It was also reported that Zapata, pinpointed as one of Inter's first choices, has a price tag of €50m.
If Inter could get such a huge amount on the Belgian, it would be a huge profit on a player they paid €85m to get from Manchester United two seasons ago.
30-year-old Zapata has a similar build and playing style to Lukaku. The Colombian can hold up the ball, and his remarkable pace combined with power and physicality have been his biggest asset in Serie A. Last season he netted 19 goals and provided 14 assists in 49 competitive games for Le Dea, with 15 coming from Serie A.
Fiorentina striker Dusan Vlahovic is another option, but the Florence club wants over €60m to sell the 21-year-old Serbia international.
Meanwhile, if Lukaku moves to Chelsea, Tammy Abraham might join Atalanta, should Zapata moves to Inter.
Since the arrival of Timo Werner, the playing time of the English striker has reduced drastically.
Sky Sport Italia correspondent Fabrizio Romano says Chelsea is ready to sell the academy graduate to La Dea. A meeting between the two clubs is expected to hold in the next few days.
Leave a comment