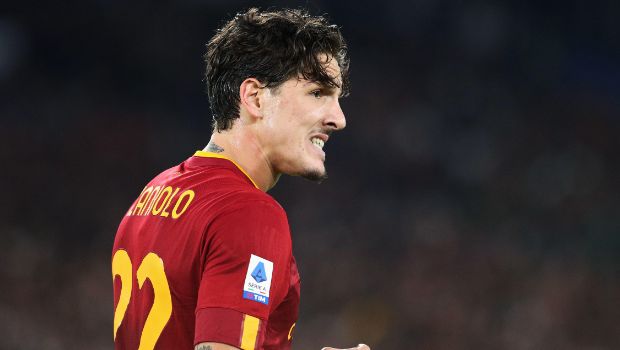 After the close of the winter transfer window, Nicolò Zaniolo has broken his silence with an open letter urging Roma to welcome him back.
In his letter, the talented youngster pointed out that he is now putting himself at the complete disposal of the Roma family.
After tendering a transfer request and missing some games, it remains to be seen if the situation can be repaired.
For a player that had to be called up for several games and then infuriated the club by turning down a lucrative transfer to Premier League side Bournemouth, this will be tough, especially with Jose Mourinho being the manager.
Zaniolo wanted a move to Milan, but The Cherries were the only team prepared to buy him outright.
Infuriated by his actions, Zaniolo escaped to the family home in La Spezia after receiving threats from Roma ultras in the street outside his house.
In his letter to news agency ANSA, Zaniolo noted that many things were said and written in the last few weeks that are not true, saying the fans welcomed him as an unknown player and gave him confidence, courage, and affection in the terrible and dark moments of his injuries.
He added that they had been repaid with a goal on their European Conference League success last term.
On his experience, the youngster noted that at 23, he had been through experiences many players haven't had in their entire careers: falling, getting back up, falling again, climbing once more, and winning.
Noting that the last few months have been a delicate period for him, the forward said it became difficult for him to understand his professional future.
However, I always worked hard on the pitch and in training with the utmost professionalism."
On the threats from ultras as the breaking point, Zaniolo said that came after Mourinho and director Tiago Pinto publicly stated that he never wanted to play for Roma again.
Leave a comment