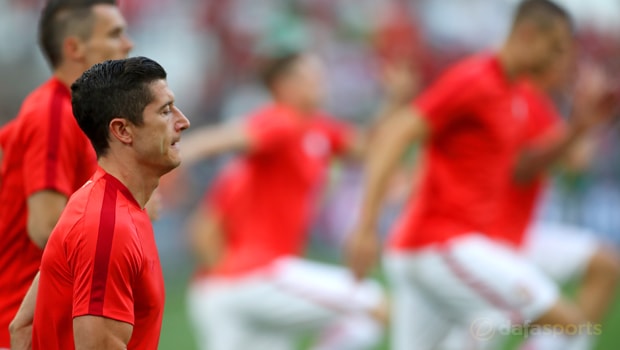 Poland's Robert Lewandowski hopes his pre-planning will allow him to be at his peak for the World Cup in Russia next month.
The Bayern Munich striker netted 16 times during qualifying, beating Predrag Mijatovic's record for a single Uefa qualifying campaign as he did.
Poland reached the last-eight at Euro 2016 in France two summers ago but the national teams' all-time leading scorer found the net just once during the tournament.
Now approaching his 30th birthday, Lewandowski knows how important it is for him to be peaking in the summer of a major international tournament.
On that basis he told Bayern he needed a back-up striker for the second half of the season, to ensure he could be rested when it was feasible.
The Bundesliga champions duly signed Sandro Wagner during the January transfer window.
Lewandowski achieved his fourth Bundesliga title with Bayern, his sixth in German football, though he ended up playing his fewest minutes in a season since his debut 2010/11 Bundesliga campaign at Borussia Dortmund.
He also ended the term as leading goalscorer in the German top flight for the third time, a feat achieved before only by Germany's Gerd Mueller and Karl-Heinz Rummenigge. Lewandowski feels he has left himself in perfect shape for Russia.
"Since the beginning of the year I tried to slow down and play optimally. I didn't want to play each game and butcher myself," Lewandowski recently told Polish newspaper Fakt.
"It gives nothing to me and the team in the long run. I always had to be available even though I had struggled with injuries.
"Now the situation has changed. I can sit on the bench sometimes and don't need to get up."
Poland face Senegal, Colombia and Japan in Group H at the World Cup and they are 5.50 to collect seven points from three games. Lewandowski is 29.00 to finish as leading goalscorer in Russia.
Leave a comment