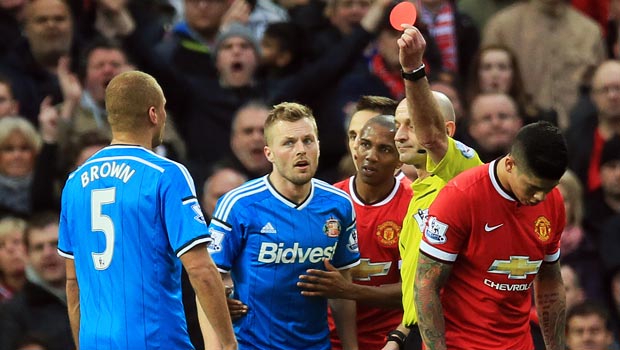 Sunderland manager Gus Poyet was less than pleased after defender Wes Brown was red-carded in controversial fashion during his side's 2-0 defeat to Manchester United at Old Trafford.
Referee Roger East awarded United a penalty midway through the second half when John O'Shea appeared to tangle with Radamel Falcao.
Brown was also in close attendance and he was singled out by the official as the man that had committed the offence. O'Shea reasoned with East that he was in fact the player that committed the foul, but to no avail.
Wayne Rooney scored from the spot but it was Brown's red card that became the main talking point in the aftermath.
Poyet was feeling aggrieved when he spoke to the media. He said: "The referee told the players there were two fouls. One committed by John O'Shea and one committed by Wes Brown.
"He gave the Wes Brown one so that's why he sent him off. Wes Brown didn't touch anyone, so I don't know what he saw. How can you give a penalty that didn't happen?"
Poyet was further irked by the fact the referee's association stood by the decision when they released a statement in support of East after the game.
The Sunderland boss reckons officials, like players and managers, must learn to admit when they get it wrong.
"They need to be more honest – the ones who are checking on the referees," Poyet said. "We are human beings. I made a decision today. I didn't change early enough to stop that penalty happening. That was my decision and I can make a mistake."
Sunderland face a key trip to fellow strugglers Hull City in midweek and the Black Cats are 3.09 to bounce back from their Old Trafford defeat with a first victory in five games.
Leave a comment