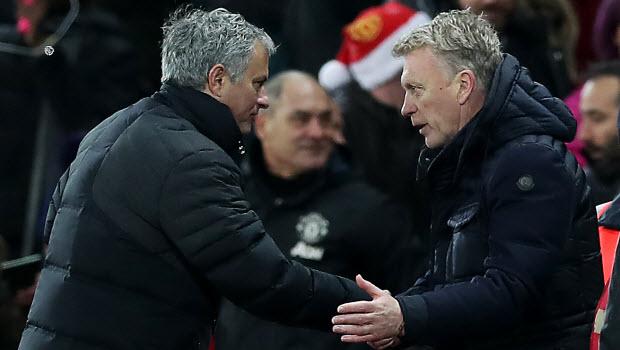 Sunderland boss David Moyes has bemoaned the costly errors that contributed to his side's 3-1 defeat to Manchester United on Boxing Day.
The Black Cats were still in the game with nine minutes remaining, as United only led 1-0, but late strikes from Zlatan Ibrahimovic and Henrikh Mkhitaryan helped the hosts seal a more emphatic victory.
Fabio Borini did score a stunning consolation goal for Sunderland in the last minute of the game, and Moyes was pleased with his team's overall performance, but he was disappointed by the individual errors that led to United's second and third goals.
Asked if the scoreline was fair, Moyes told Sky Sports: "No I don't think it is, but ultimately we gave away two horrendous goals, the second and third, albeit the third was offside.
"We were always hanging in there at 1-0, we knew that was going to be the case, but I can't fault the players for their effort, what they were trying to do, but the quality, difference in quality between the two teams, is the big thing."
The former Everton boss admits it is hard to legislate for such individual errors, but he has taken confidence from his side's overall performance at Old Trafford.
"The mistakes were poor mistakes, poor passes, simple, it's very difficult to teach or coach them any different, if you can't do that, you're in trouble," the Scotsman added.
"But I've got to say the players didn't deserve to lose the way they did, and we did OK in some patches of the game."
Sunderland are currently 18th in the Premier League, two points adrift of safety, but they can end the year outside the bottom three if they secure a victory over Bunrley at Turf Moor on Saturday.
The Black Cats are available at 3.20 to win the match, while Burnley are priced at 2.38 and the draw is on offer at 3.20.
Leave a comment