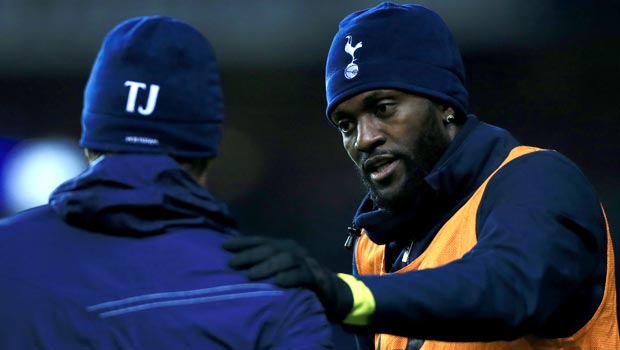 Tottenham boss Mauricio Pochettino is confident Emmanuel Adebayor will give his all for the club despite the striker's failure to secure a move away from White Hart Lane on transfer deadline day.
The 30-year-old's tumultuous spell at Spurs looked like it was coming to an end on Monday when West Ham boss Sam Allardyce lined up a bid for the Togo international.
However, the deal failed to materialise and now the former Arsenal man – who had made it clear he wanted a move away – will have to try and build his bridges as he attempts to get back into Pochettino's side in the remainder of the season.
It is unclear if he will even be in the squad for Saturday's north London derby against his old club, but Pochettino appears happy to welcome Adebayor back into the fold and hopes he can make a contribution between now and May.
"We are happy that he stays here because I think he is a very important player," the Tottenham head coach said.
"We need to provide him with the tools to improve his game and try to help the team to reach their objective.
"Like with all players, we try to push them, get them to train in a good way and after, when they have the opportunity to play, try to give their best."
Spurs will aim to boost their top-four chances with a win at White Hart Lane as they look for a successful second half of the season.
Pochettino's men are also through to the Capital One Cup final, where they will face Chelsea (Spurs 4.83, Chelsea 1.64, draw 3.80 – 90 minute match odds), and they're also preparing to tackle Serie A side Fiorentina in the last 32 of the Europa League later this month.
Leave a comment