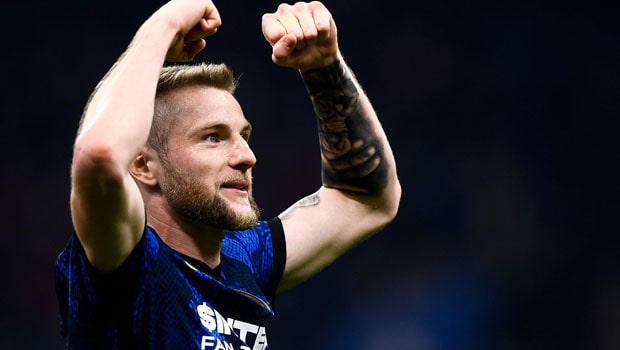 Ligue 1 champions, Paris Saint-Germain, has been monitoring the situation surrounding Milan Skriniar at Inter Milan but might miss out on signing the defender this summer.
According to L'Equipe, PSG will make one final bid for Skriniar, but Sky Sport Italia reported that Inter have already slammed its door shut on transfers this summer. This means it's too late as the domestic season had already begun.
Although Inter wants to raise money in order to balance their books, the suitors of the defender have not been able to meet up with €70-80m asking price.
Skriniar has kept mum over his future despite being at the centre of the transfer market all summer long.
Since the Nerazzurri had sold some of their fringe players, they might not need to sell him to raise funds.
PSG have not gone beyond circa €50m plus bonuses. Thus, they did not get close enough to the price tag in order to force a wobble.
The latest update from L'Equipe may be true, but PSG will have to propose a lucrative offer knowing well that it could be the last offer to find the breakthrough and get Skriniar in Paris.
However, Sky Sport Italia reported that the ship has already sailed, that it is too late to find a suitable replacement, and the Nerazzurri will therefore not take any bid into consideration for Skriniar.
With two years left on his current deal at San Siro, the defender had already agreed on an extension.
Having him tied to another deal will not be an issue as the Slovakia international has never tried to force an exit and is happy to remain at San Siro.
But that might change should the Paris club make him a mouth-watering offer he might find hard to turn down.
Inter might also have shut the door Knowing fully well that it will be hard to get a replacement for him.
Leave a comment