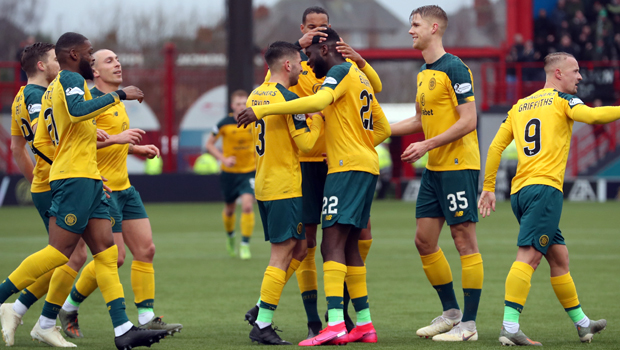 Glasgow Celtic's hunt for the first win in the continental competition's knockout stages since 2003 continues yet, with only a 1-1 draw to their name from the visit to FC Copenhagen Thursday evening for Europa League first knockout round first game.
While the visitors were the more dominant side from the start, the hosts never gave up and were close to an upset after improving towards the end, but Celtic got the upper hand by scoring the all-important away goal in the eventually well-deserved 1-1 tie. The visiting Celtic seemed better prepared and ready from the beginning. Odsonne Edouard had a chance parried brilliantly by Copenhagen's Swedish keeper Karl-Johann Johnsson and the chance set the pace for Celtic's early push.
It took Edouard 14 minutes to beat Johnsson as he was nicely set-up at the left side of the box by Callum McGregor. Edouard threaded the needle and narrowly slotted the ball past the surging Johnsson to take Celtic 0-1 up. The first half was all Celtic, as they rolled their attacks to the offensive end and made Johnsson work for his paycheck. The home team was kept at bay with no shots on goal in the first half, but the visitors were not able to add an insurance to their single goal during the dominant 45 minutes.
And as it often goes, you pay for your shortcomings. FC Copenhagen came into the second half more prepared and determined to hack their way back to the game. A missed Celtic clearance led to a buildup for their equalizer, finished off by former Hull and Sunderland journeyman striker Dame Ndoye. The 35-year-old has been on fire again this season for FCK, scoring eight goals in 12 games. The hosts took the control of the game and pushed Celtic to the defensive. The home team got their prize on the 79th minute, with Ryan Christie handball causing a penalty.
Jens Stage stepped up to the spot, but fired the shot inside of the post and away. Fraser Forster was right there and possibly got his fingertips in the way. With Celtic dodging the first bullet, they gave their hosts no more ammunition and survived the scare with 1-1 draw.
The next leg is played at Celtic Park already on next Thursday and a 0-0 draw would do for the hosts. Meanwhile they will face Kilmarnock at home on 23rd February for the domestic campaign, which they are leading by 10-point difference to Glasgow Rangers. Don't miss out on Dafabet's Celtic FC Prediction Challenge in order to win free weekly bets!
Leave a comment