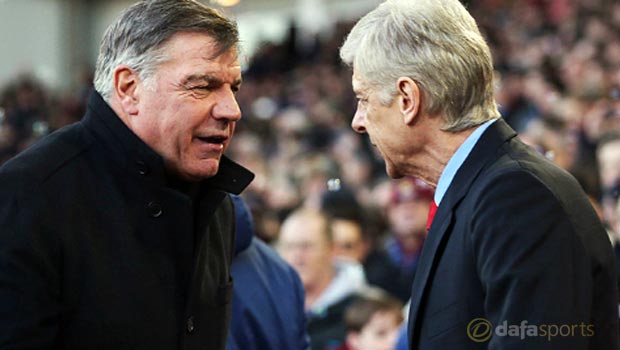 New Sunderland boss Sam Allardyce has admitted how much enjoyment he gets from upsetting the odds against Arsenal manager Arsene Wenger.
During his time as Bolton manager, Allardyce's side earned themselves a reputation as a bogey team for the Gunners, often disrupting Arsenal's flowing play with their confrontational approach.
Allardyce will take charge of Sunderland for the first time against West Brom this weekend and in his newly released autobiography he says he enjoyed getting one over on Wenger more than any other manager.
"I enjoyed beating Arsenal more than anyone when I was in charge at Bolton. We'd really got to them and Arsene Wenger hated us," he said.
"Of course, Arsenal beat us sometimes, but we drew with them or beat them more often than expected and Wenger couldn't handle it."
Allardyce will have to wait until December to get his first crack at Arsenal as manager of the Black Cats, a trip to Emirates coming at the beginning of a difficult month that also pits Sunderland against Chelsea, Manchester City and Liverpool over the festive season.
Allardyce praised the Frenchman for his managerial ability but said Wenger did not like it when teams presented a physical challenge to his side.
"He's a fantastic manager, I cannot deny that. But the more I could wind him up, the more I liked it.
"He tried to influence refs through the media and create a perception that we were bullies committing all the fouls, while his team just wanted to play," he added.
Sunderland are 1.22 to be relegated from the Premier League this season while they are 4.20 to earn their first win at West Brom.
Leave a comment