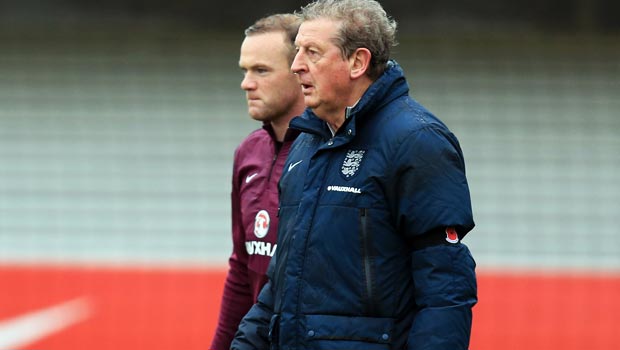 Wayne Rooney is set to earn his 100th cap when England host Slovenia on Saturday, and boss Roy Hodgson believes the forward will continue to improve over the remainder of his international career.
Rooney became the youngest player to turn out for England at the age of 17 in 2003 (although that record has since been broken) and was hailed at the time as the potential 'saviour' of English football.
However, the Manchester United forward has since been criticised on a number of occasions by both sections of the media and the England support, and Hodgson feels the England captain deserves additional praise for reaching a century of caps due to the adversity he has faced throughout his career.
"I think that he has had a turbulent career in many ways," Hodgson told BBC Radio 5 Live. "He burst on to the scene as the wonder kid at 19. He was the saviour of English football.
"And he has had to suffer the slings and arrows because of the times when, of course, he has not been able to be the saviour of English football and people have criticised him for it.
"Having built him up to a very high level they have worked very hard to knock him right back down again. I think that has given him an incredible maturity and mental strength that we will need going forward. That's a harder thing to teach or to inculcate in the squad than tactics or technique."
Many questioned the decision to hand the captaincy to Rooney when Liverpool midfielder Steven Gerrard decided to call time on his England career, but Hodgson insists the forward is a "caring captain" who "has taken the captaincy unbelievably seriously".
The England manager is also confident that Rooney will continue to improve in the coming years and grow stronger as a leader on the pitch.
"I think he will [get better]," he added. "He is a consistent performer and someone who regards playing for his country as something of vital importance."
England are 1.33 to beat Slovenia on Saturday at Wembley. A draw is available at 4.44 and Slovenia can be backed at 9.72.
Leave a comment