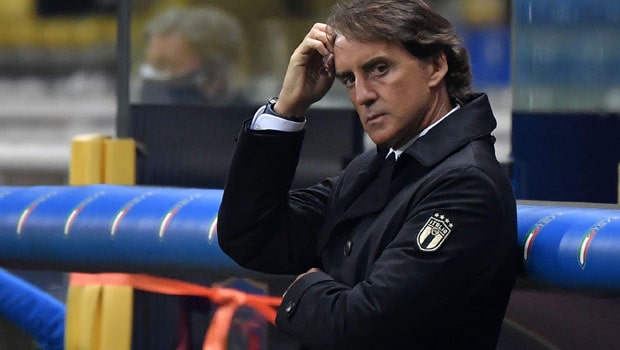 Italy will be hoping to continue their dominant run in the Group C of the 2022 FIFA World Cup qualifiers when they travel to Lithuania tonight.
The Azzurri had already defeated Northern Ireland and Bulgaria in their first two games to maintain the group's top spot.
Roberto Mancini's men were dominant in the matches. Therefore, they will be looking forward to more of the same, knowing fully well that they will have to play Switzerland in the next international break.
What matters most to Roberto Mancini is that his lads must hit the ground running, which had been seen in their display in the two games. For instance, against Northern Ireland, Italy was dominant in the first half, with Domenico Berardi and Ciro Immobile's goals.
After recording the same scoreline victory against Bulgaria in Sofia, Italy has continued their resurgence under Mancini, who took over in 2018. The former Manchester City boss is now unbeaten in 23 matches.
They will keep their good record of no defeat at home during qualifiers. Their clash against Switzerland is expected to be a mouthwatering affair. The four-time World Cup winners have secured 11 victories in 11 Euro 2020 qualifiers, making a 100 percent record so far.
Meanwhile, Italy will be preparing for a stern test against their host, who lost their first game against Switzerland, courtesy of two minutes striker from Xherdan Shaqiri. Being the host, they are expected to give the four-time World Cup winners a run for their money.
The match could also test Mancini's team's credential ahead of the European competition that will hold later this year. They have also been placed among the favourite to win the competition.
Due to the COVID-19 scare, Mancini has called on the football governing body, UEFA, to increase the number of players in each team at Euro 2020.
The manager said it could be a good idea to increase each teams' players to 25 or 26, as against the usual 24.
Speaking with pressmen, Mancini said in a situation where a player tests positive for the dreaded virus, no one knows what will happen, adding that it would be difficult to pick up other players.
Leave a comment