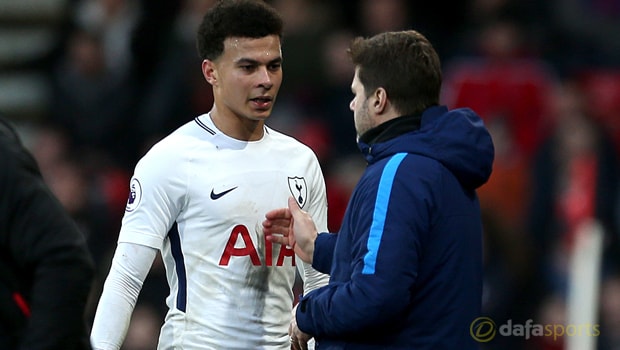 Mauricio Pochettino says too much pressure is being placed on Tottenham Hotspur and England youngster Dele Alli.
The Spurs boss insists he has 'full confidence' in Alli, though he remains wary of too much being asked of the 21-year-old.
Alli has struggled to hit the heights of the last two seasons on a consistent basis during this term.
He played just 22 minutes of England's two friendlies against Holland and Italy, with his international boss Gareth Southgate suggesting that he was far from a certain starter going into this summer's World Cup in Russia.
Pochettino has warned that people shouldn't be too sore on a player that is still maturing in life, never mind football.
"I have full confidence in him and his talent and because I know him – he is a great kid and a very good person," said the Argentine.
"But he is young. He is 21. If you compare with normal people on the street who are 21, they are still living at home with their parents, they are still at university doing stupid things."
Tottenham will do what they can to help Alli continue his progress and Pochettino feels that Alli is now something of a slave to his early success after joining the club.
"Sometimes we expect too much and we put too much pressure on 21-year-old players. Sometimes we forget and treat them like 40-year-old men," he added.
"It's not like this. We need to be focused on him being still a kid.
"We are going to help him because he is a talented player and a great kid. And he has done a lot for us and the club.
"The problem is that in the last two seasons, he was unbelievable, amazing."
Spurs are 3.10 to win at Chelsea on Sunday, while Alli can be backed at 3.60 to score at any time against the Blues.
Leave a comment