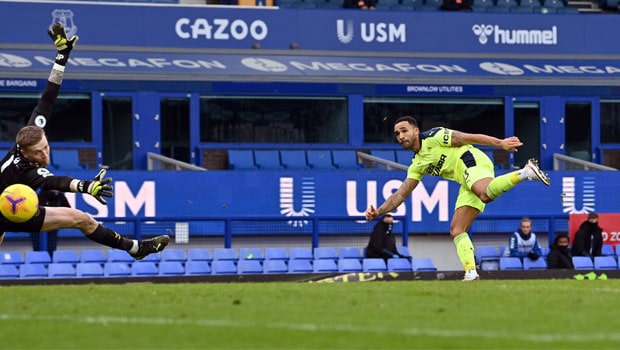 Callum Wilson scored goal No. 50 and 51 of his Premier League career Saturday as Newcastle got an overdue 2-0 win vs Everton on the road at Goodison Park. This was Newcastle's first win since December 12, 2020.
Everton's only other loss this month came against West Ham on 1 Jan.
"We can't be sitting back all the time, especially with the players we've got," Wilson said to BT Sports after the win. "The players are the ones who go out and perform at the end of the day."
The goals on Saturday also marked goal No. 100 for Wilson in his career; 67 goals for Bournemouth, 23 for Coventry, 9 for Newcastle, and 1 for England.
Only five English players have scored 10+ goals in this season's Premier League, with Wilson joining the likes of Harry Kane, Jamie Vardy, Dominic Calvert-Lewin, and Patrick Bamford.
Most notably, though, Wilson's impact has been felt in this 2020-2021 season that has seen so much unpredictability and inconsistency. Wilson is responsible for over two-thirds of Newcastle's goals in this season's Premier League campaign.
Wilson leads the Premier League with his four goals scored in the 80th minute or later; striking late for a few points is becoming a trend it seems.
He now has 6 total Premier League goals when facing Everton, his second-most against one side other than West Ham (8). Those six goals vs Everton have all come in his last four matches against that side.
"He put in a big performance," Newcastle manager Steve Bruce said. "He's going to get the headlines. To come here and win so convincingly was very pleasing."
Newcastle's next Premier League match is set for Tuesday, February 2, vs Crystal Palace.
Leave a comment