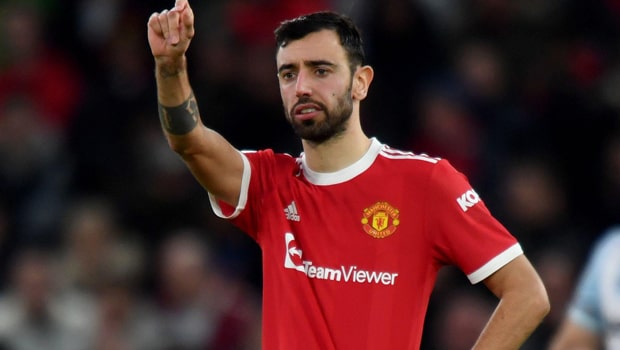 Bruno Fernandes recently completed two years at Manchester United and has said that his ambition remains the same at the club. The Portuguese wants to win trophies with Red Devils and wants to give his best to the team.
Fernades had joined Manchester United back in 2020 and since then he has done a decent job for the club. The midfielder has played 72 matches for Red Devils in which he has scored 33 goals and has provided 24 assists.
However, the closest that Manchester United has come to winning silverware with Bruno Fernandes has been the final of the UEFA Europa Cup, which they lost against Villarreal in the previous season.
Bruno Fernandes said while talking to the club's official website, "My ambition is still the same. I want to win trophies with the club. That will always be in my mind until the last day I am at the club. I don't know when that will be but, until then, I will believe that I can win trophies with this club because I think we can and I think the club deserves it, the fans deserve it and also the players, we deserve to win a trophy. Whenever that is, we have to do it step by step and understand we have those qualities but we have to understand how to do it, how to put everything together – the qualities and the intensity and everything."
Fernandes admitted that winning Premier League might not be possible for Manchester United as they are currently in fourth place and they are 19 points away from table-toppers Manchester City. However, the midfielder feels the club can go all the way in the UEFA Champions League and FA Cup.
"Of course, in the league, it is too far now. We have to be realistic and we have to fight for the top four and be in the UEFA Champions League next season. At the same time, fight for the Champions League and the FA Cup. I don't care what people think or can say about us winning the Champions League or the FA Cup. I think we have the chance to win it, the qualities to win it and, most of all, we are in those competitions. Until we are out, we have to believe we can win those competitions," he said.
Fernandes revealed that he likes to watch matches of different leagues as he feels he can improve his game by observing different players in action.
"Every time I get the chance to see games, I'm always watching, if it's the Premier League, Championship, Portugal, Spain, France. I have friends everywhere! Portuguese players are honestly playing everywhere and I like to see them playing. I will keep doing it because I think you can also improve your game by watching different styles of players and different styles of play in the teams. You can learn just by seeing football and understanding the movements and everything. You can enjoy at the same time and learn from that," he said.
Manchester United will face Middlesbrough on 4th February at Old Trafford.
Leave a comment