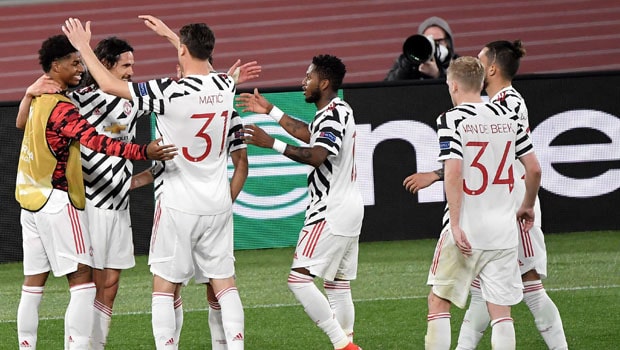 AS Roma won a 5-goal thriller in the second leg of the UEFA Europa League semi-final against Manchester United at the Stadio Olimpico in Rome on Thursday evening, but it was the Red Devils who moved into the finals of the competition where they will be facing Spanish side Villarreal.
The Ole Gunnar Solskjaer's managed side won the first leg 6-2 at the Old Trafford making the second leg more or less a formality but it was more of a goal feast on the night with the host winning 3-2 to make an 8-5 aggregate score.
Uruguayan striker Edinson Cavani had given Manchester United the lead six minutes before half-time however former Manchester City striker Edin Dzeko pulled Roma level 3 minutes before the hour mark.
Midfielder Bryan Cristante gave Roma the lead right on the hour mark but Cavani put United level eight minutes later to score his brace and his fourth goal in both legs.
Brazilian defender Alex Telles scored an own goal with 7 minutes left to play in the game to give Roma the winner on the night although the result wasn't enough to see them through into the finals.
In the second game played on Thursday evening, Arsenal was held to a 0-0 draw by Villarreal at the Emirates Stadium.
The Gunners had lost the first leg 2-1 and they were hoping to get into their second Europa League final in five years after losing to Chelsea in Baku Azerbaijan in 2019.
However, despite needing just a single 1-0 victory to move into the final, which would have allowed them to potentially play in the UEFA Champions League next season if they had won it, Arsenal failed to find the back of the net in 90 minutes.
Villarreal moved into the final with a 2-1 aggregate score and will now face Manchester United in the final two which will be played in Gdansk Poland on the 26th of May.
Leave a comment