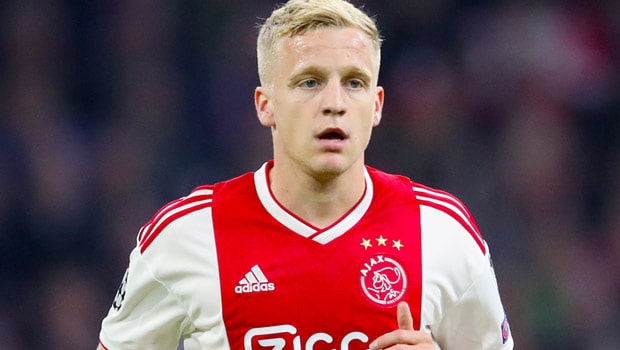 The 23-year-old midfielder will arrive to the Premier League in a deal worth upwards of £40m. The Van de Beek signing represents Manchester United's first major move of the summer.
Van de Beek is the latest high-profile player to leave Ajax, following in the footsteps of former teammates Frenkie de Jong, Matthijs de Ligt and Hakim Ziyech.
The Dutch star midfielder was a standout player for Ajax in the 2019-20 season, scoring eight goals with five assists in just 23 Eredivisie games.
The Daily Mail reported that Van de Beek will wear the number 34 shirt to honor his former Ajax academy teammate, Abdelhak Nouri.
Nouri and Van de Beek rose through the ranks at Ajax but the former collapsed during a friendly match in 2017 and suffered serious brain damage as a result.
"Donny van de Beek is 23 years old and that is a nice age to make a transfer to the Premier League," Arsenal and Manchester United legend Robin van Persie wrote in a column for De Telegraaf.
I was a bit younger when I went to Arsenal, and in the locker room, I was considered a player for the future. Winning the UEFA Cup with Feyenoord meant nothing. The Premier League is a completely different world."
Robin van Persie knows what he's talking, as he thrived in England after coming over from Feyenoord in 2004, when he was 20 years old. After eight years with Arsenal, van Persie joined Manchester United and eventually helped them win the Premier League title in 2012-13, Sir Alex Ferguson's final season in charge of the Red Devils.
"Donny will be brought in as a major purchase from Manchester United, but he will discover that those other 22 players have also been brought in as a 'major purchase.' One with an even bigger transfer [fee] than the other.
It means that he has to stand there right away and he has to mentally adjust to that. Because Manchester United is in every way a beast of a club," van Persie concluded.
Leave a comment