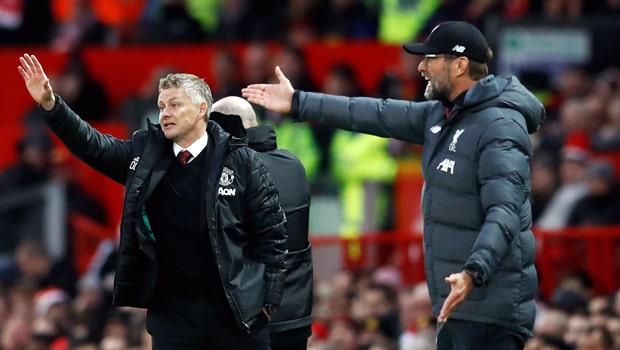 The Premier League arch-rivals went head to head on Sunday's spectacle, with many believing the visitors to run out as clear winners. It did not look promising for the home team, after receiving news of no. 1 goalkeeper David De Gea getting a knock while on international duty with Spain and Paul Pogba's inability to take part in training due to an injury. Ole Gunnar Solskjaer had to make some difficult decision regarding his starting X!, but the players chose rose to the occasion and snapped Liverpool's 17 match winning streak in the EPL – with the help of De Gea between the pipes.
Manchester United started the game carefully, as did their rivals. Neither of the teams took unnecessary risks and it did seem like a boring-boring nil-nil game until the 37th minute. Liverpool's left back Andrew Robertson was caught out of position at the half line, and United's Daniel James skipped past him on an open lane. The Welsh rising start then slotted a perfect pass in the box for Marcus Rashford to tap in 1-0 lead for the hosts. Earlier David De Gea had robbed Roberto Firmino from a close range and only minutes after Rashford's goal, Liverpool's retaliation was whistled off by VAR-decision: Sadio Mane undoubtedly handled the ball just before scoring.
The visitors couldn't break through the Manchester United defense and the home team managed to hold up possession surprisingly well, not giving the skillful Liverpool any chances to work their magic. First half saw only two shots on goal and four goal-scoring efforts for the both teams. In the second half Liverpool started chasing the equalizer and took control of the possession, but Manchester United defended vigorously. It was all the way to the final five or so minutes when Liverpool struck. Andrew Robertson sent a drilling cross into the box from the left flank and Jordan Henderson touched it on for Adam Lallana to walk it in past the dumbfounded keeper De Gea. While it might've been a bit of a lucky strike, it was truly deserved as Liverpool pushed on for the latter part of the game, wining possession in the 2nd half 21% – 79% with ManU not recording a single effort on goal.
If things were normal, drawing at home against Liverpool might be a bit disappointing for Manchester United, but things definitely are not normal at Old Trafford. Drawing against a dominating side just might light the spark ManU needs to climb back into the battle for at least Champions League. Liverpool on the other hand can dust off the draw as a law of the nature – Klopp has yet to win away at United after five attempts.
English Premier League Winner – Liverpool: 1.70
English Premier League Winner – Manchester United: 501.00
Norwich vs Manchester United (1×2): 4.20 – 3.60 – 1.84
Liverpool vs Tottenham (1×2): 1.52 – 4.10 – 6.30
Leave a comment