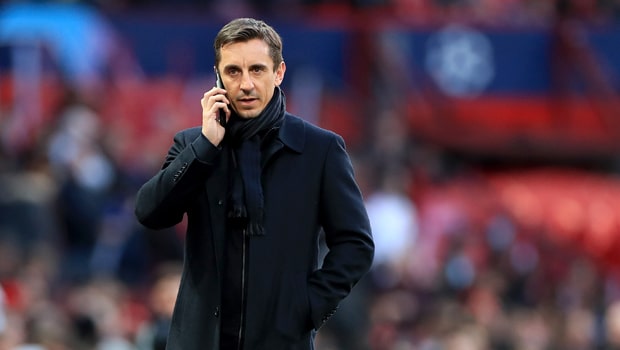 Gary Neville says Manchester United are going to have their backs against the wall in this summer's transfer market as clubs can see they need to strengthen.
The Red Devils have so far managed to sign promising Swansea youngster Daniel James, the only new arrival in Ole Gunnar Solskjaer's squad. With rumours of record signing Paul Pogba departing, the Premier League side are facing an uncertain summer – something Neville says will continue.
"It's difficult to do business, it's not easy. Everyone knows Manchester United want players and price tags will go up," Neville told Sky Sports. "You've got to try and encourage players to come to the club. Players don't just jump to sign for any club – they do their homework and get their agents to get to work.
"They probably have 50 meetings before they sign for a club nowadays. Manchester United will be in the pit with the rest of the sharks looking for the big signings."
Neville also highlights the fact that a small pool of talented players are being targeted by multiple clubs once they become available. Leicester City defender Harry Maguire, a United target last summer, is among those, with Manchester City now also being heavily linked with the England defender.
"It's difficult for all clubs – they all want the same players. They all want Harry Maguire, every single club wants him. Everybody wants Christian Eriksen," said Neville. "Players that are being bandied about, there are four or five clubs in for them. They aren't just going to sign for the first club, they'll choose wisely and look at the different aspects.
Manchester United have got a big job to do in order to get a squad right for a championship challenge." Man United are 23.00 to win the Premier League title next season, with neighbours City 1.60 to make it three in a row.
Leave a comment