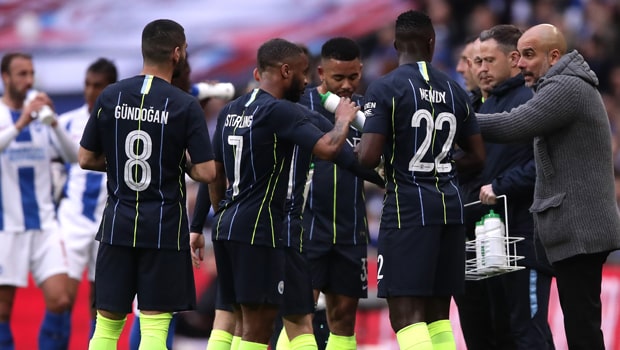 Manchester City boss Pep Guardiola has piled the praise on his players for maintaining their quadruple hopes after they beat Brighton 1-0 in their FA Cup semi-final clash on Saturday.
City are looking to become the first side to win the Premier League, FA Cup, EFL Cup and Champions League in the same season.
The Citizens already have the EFL Cup in the bag after lifting it in February and they will also win the Premier League if they win all their remaining games.
Guardiola's side are just one way away from FA Cup glory thanks to Gabriel Jesus' goal, while Tottenham are next up in the Champions League.
City have had to contend with their fair share of injuries this season and Guardiola says their fans are witnessing a miracle at this stage of the campaign. "It is always almost impossible to win the quadruple," said Guardiola.
"To still be surviving at this stage in all competitions is already a miracle, and it's nice to be there.
"Normally when you achieve 100 points [last season], no one can repeat that, and the year after you have a tendency to be a bit more arrogant or presumptuous. But still we are there, it's incredible what these players have done so far.
"I know Liverpool are going to win all their games so to be champions we have to win all of ours."
City take on Spurs on Tuesday night at their new stadium in London, with Mauricio Pochettino's men 4.20 to win. The draw is 3.80, while Guardiola's side are 1.83 to win the first leg.
Leave a comment