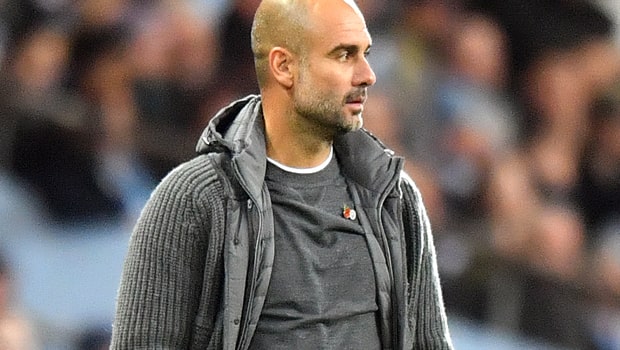 Pep Guardiola says Manchester City will need to win the Champions League in order to silence their doubters.
The Premier League champions have found success in Europe elusive despite plenty domestic success in recent years.
Guardiola, twice a Champions League-winning boss with Barcelona, admits that those that feel Man City have 'bought' success may never be silenced unless they can achieve the ultimate glory in European football.
Manchester City are in France on Tuesday where a point at Lyon will guarantee qualification for the knockout stages, while victory will ensure they progress as Group F winners.
"For the people who don't love us too much, who use money as an argument, then we have failed if we don't win the Champions League," he said.
The Spaniard says Man City supporters are more appreciative of the success the club are enjoying and, crucially, the style of football they play to achieve it.
Securing their place in the last-16 is all that concerns the City boss for now.
He makes no secret of his burning desire for Champions League glory but Guardiola warns that it won't be easy – with so many top clubs in the hunt for one prize.
"[After we qualify] – OK, try it again, why not? And if we go to the quarter-finals and maybe you are lucky to go forward.
After that, the competition it speaks for itself. A lot of desires, a lot of wishes we can have at the end," he added.
"The competition is so tough, so clinical, to say if you are better you are going to win, if you don't, you are going home."
Manchester City are favourites at 4.33 to win the Champions League this season, ahead of Barcelona at 6.00 and Juventus at 6.50.
Leave a comment