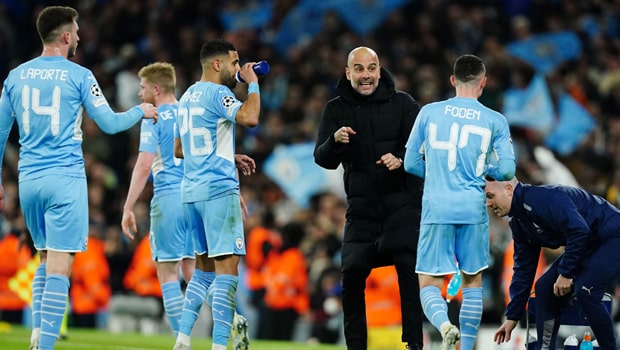 Manchester City manager Pep Guardiola has said his team must raise their level to beat Real Madrid and reach UEFA Champions League. In the first leg of the semifinal at the Etihad Stadium, City took a 4-3 advantage against Los Blancos but the home team had many opportunities to put the game to bed.
However, they couldn't grab them, especially in the first half, to leave Pep Guardiola frustrated. The hosts opened the scoring within the first 90 seconds as Kevin de Bruyne found the back of the net with a fine header after an assist from Mahrez.
City doubled their lead in the 11th minute of the game after shaky defending from Real Madrid as Gabriel Jesus continued his good form. However, the tourists bounced back soon after as their captain Karim Benzema scored.
Phil Foden then scored in the 53rd minute with a header but once again Real Madrid came back stronger as Vini Jr. scored a brilliant goal after a fine run. Bernardo Silva then netted one past Madrid's goalkeeper Thibaut Courtois but Karim Benzema made sure that they go into the second leg with only a one-goal deficit as he kept his nerve while taking a penalty.
City did dominate the contest as they had a lot of chances and maybe they should have scored two-three goals more.
"It was a good game with both teams with an incredible amount of quality," Guardiola said. "The result could be better. You have to perform really well in two games. We performed really well in the first one and we have to do it in the second one. It is a good test to show our personality.
"We miss them [the chances] but we create them. We were there all the time. We were there. No complaints about the result, the performance, anything. "I am so proud of the way we perform in front of the world. We did everything to win."
On the other hand, Real Madrid manager Carlo Ancelotti reckons his team was too soft defensively and City was able to take advantage. However, he was happy that they were able to close the gap every time they went down.
"My feeling is that we started really poorly in the game, we were too soft, we let in two goals and from there the team showed what they have showed in the last periods," Ancelotti said. "It is quite simple to define this game; we did well with the ball, without the ball we need to be much better.
"In the second game I think if we defend better we will win, but if we defend like today we will be out of the competition."
The second leg of the semifinal between these two teams will take place on the 4th of May.
Leave a comment