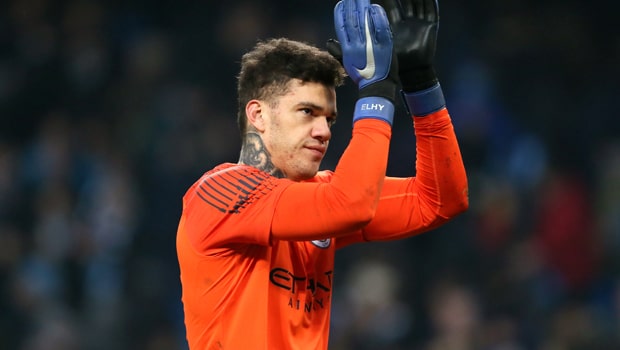 Manchester City goalkeeper Ederson hopes they can build on their key Premier League victory over Liverpool as they look to defend the title.
City claimed a 2-1 win over the league leaders earlier this month to move within four points of the Reds at the top of the standings.
The cups have been the focus since then, as City overcame Rotherham 7-0 in the FA Cup before thrashing Burton Albion 9-0 in the first leg of their EFL Cup semi-final, but the league remains the priority for Ederson.
The Brazilian stopper feels a loss or even a draw against Liverpool would have all but ended his side's hopes of claiming back-to-back Premier League crowns, and has now urged City to go on a winning run as they look to move to the top of the pile.
"For us it was a matter of life or death," he told Sky Sports. "We knew the circumstances around the game – drawing or losing was not an option. We only contemplated winning, and we did a great game.
"It was our best game in the Premier League so far, and hopefully we will continue at the same level as of now."
City are 2.15 to win the Premier League outright, Liverpool are 1.75 and Spurs are available at 17.00.
Ederson helped Pep Guardiola's men win the title in his first season in Manchester and says he now feels he has fully settled in at the Etihad Stadium after his switch from Benfica.
He said: "I feel very settled down in the team and I am communicating with the rest of my team-mates and especially the defenders.
"I am working on my English skills that will help me on the pitch. Communication between each other makes our job much easier."
City take on Wolves on Monday in their next Premier League fixture and they could be seven points adrift of Liverpool by the time that game comes around, as the Anfield outfit head to Brighton on Saturday.
Leave a comment