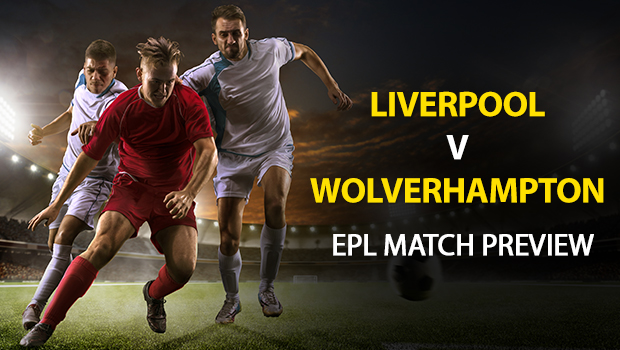 Liverpool vs Wolverhampton
Molineux Stadium is the venue as the Wolverhampton Wanderers get set to host Liverpool in Premier League action this Saturday. Wolverhampton will look to keep momentum going after winning three in a row, most recently 2-0 over Bournemouth last Saturday.
Let's take a closer look at where the value is at in this match.
Team to Win (Regular Time)
• Wolverhampton: 6.51
• Draw: 4.34
• Liverpool: 1.55
Spread
• Wolverhampton +0.5, +1: 2.29
• Liverpool -0.5, -1: 1.94
Total
• Over 2.5: 1.88
• Under 2.5: 2.02
What to Watch For
Betting on the Draw: Odds indicate there's a 23 percent chance the match ends in a draw. There's a draw in 20 percent of AccuScore sims, suggesting no added side value on the draw.
The average score after 10,000 simulations is 1.96 – 0.61, in favor of Liverpool.
Last 6: Wolves have 3 wins, 2 losses and 1 draw in their last six overall. They're on a three-game win streak in Premier League action. Liverpool have 5 wins and 1 loss in their last six overall, with the loss coming in UEFA Champions League Group C action vs PSG on the road.
Last 10 matches: Some numbers to consider when looking at this matchup — helping to understand why Liverpool is a heavy favorite. Liverpool, over their last 10 games, average 3.4 shots on goal per game compare to 2.4 per for Wolverhampton. Liverpool averages 4.1 corners per match compared to 2.9 for the Wolves. On the other side, Wolverhampton average 8.9 fouls per match compared to 6.6 for Liverpool.
Head to Head: These two sides last faced off in Premier League action back in January of 2012 when Liverpool won 3-0. Their last match overall was in January of 2017 (FA Cup) when Wolverhampton won 2-1.
Projected Leaders
Modamed Salah has a 53-to-54 percent chance to score for Liverpool. He averages 3.61 shots overall per sim, 1.57 shots on goal per and 0.77 goals per sim.
Diogo José Teixeira da Silva, aka Jota, has about a 15 percent chance to net the ball vs Liverpool. He averages 1.61 shots overall per sim, 0.72 shots on goal per and 0.16 goals per sim.
Analyst's Pick
Liverpool -0.5, -1
Odds indicate Liverpool has a 51.5 percent chance to win this match by at least a 1-goal margin. They win close to 70 percent of AccuScore sims by an average margin of victory of +1.35 goals. Liverpool on the money line is a four-star (out of four) AccuScore hot trend pick.
Leave a comment