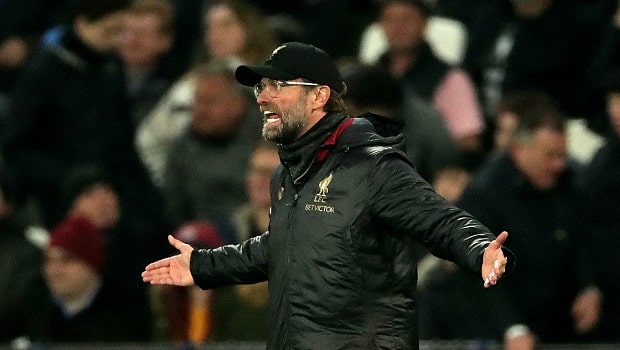 Liverpool are determined to keep doing their due processes as the title race heats up, according to boss Jurgen Klopp.
The Anfield side were held to a 1-1 draw at home by Leicester last Wednesday, just 24 hours after Manchester City had lost 2-1 at Newcastle. It meant Liverpool spurned the chance to open a seven-point gap over champions City in the title race and, with Pep Guardiola's side beating Arsenal 3-1 on Sunday, that gap has now been trimmed to only two points.
Many felt Liverpool exhibited signs of nerves in their game against Leicester after Sadio Mane had fired them in front early on. Klopp however is only concerning himself with attempting to keep his players focused and within their routines as the pressure increases.
"We do what we always do: we prepare ourselves and handle our situation our own way. We have no influence on the feelings and stuff from other people," he said. Facing West Ham looks an ideal stopping point for Liverpool.
The Hammers have lost their previous three games in all competitions while Liverpool have won their last four games against West Ham, scoring 16 goals and conceding only two.
Manuel Pellegrini was a title-winning manager during his three-year stint as Manchester City boss and he admits he'd love to his old club a favour by denting Liverpool's hopes of ending their near 30-year wait for Premier League success.
Klopp knows that not everyone will want to see the Merseysiders ending that quest. "It was always clear if you want to win something there will always be a bunch of people who hope you will win, and another bunch of people who hope you will lose," he added.
Liverpool are 1.33 to win at West Ham on Monday and 2.20 to do so in a game that has over 3.5 goals scored – as they have done in their last four meetings with the Hammers.
Leave a comment