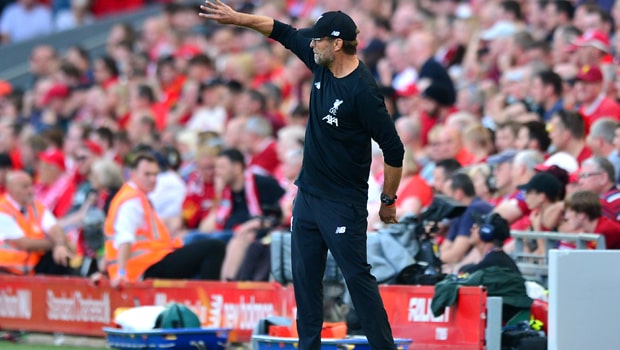 Jurgen Klopp says Premier League clubs are unlikely to be dominant in Europe this season.
Klopp's Liverpool side defeated Tottenham in the Champions League final last term, while Chelsea overcame London rivals Arsenal in the Europa League decider.
Liverpool are 'unlikely' to retain the Champions League trophy, according to their manager, with Kthe German suggesting there is a real strength in depth to Europe's top club competition. "The quality of teams across the draw is so high that talk of a European Super League is unnecessary", says Klopp.
"I will have no problem with [reaching the final] if it happens again, but at this moment I am not too sure it will. "We have the same chance like everyone else, but that is all, and I don't see us, the English teams, dominating. I really think a lot of teams have a good chance."
Liverpool have familiar foes in Carlo Ancelotti's Napoli in the group stage, with Klopp's men also set to face Salzburg and Genk in Group E. Klopp's former club Borussia Dortmund are one of three former winners in Group F, joined by Barcelona and Inter Milan as well as Slavia Prague.
The German believes many teams are strong enough to compete for the trophy, including his old club. "Look at the squad Borussia Dortmund has and tell me we are stronger than them. That is incredible," he added.
"They can make five changes and you think: 'Really, they didn't play last week? Why?' "There are a lot of quality teams: Juventus will be there, PSG will be there. Real Madrid? Do you think they gave up already? "Bayern Munich now finally brought in [Ivan] Perisic and [Philippe] Coutinho which is a big boost."
Liverpool are 6.50 to win the Champions League again this season, with Borussia Dortmund 34.00 and Bayern Munich 13.00.
Leave a comment