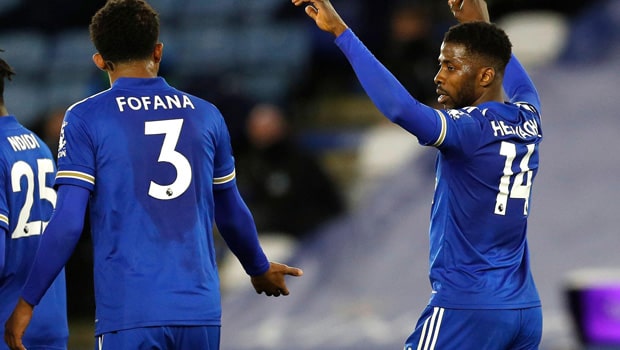 Nigerian forward Kelechi Iheanacho continued his goalscoring form as he made it four goals in four games in Leicester City's 3-0 victory over West Brom on Thursday evening.
Iheanacho scored his 8th goal in his last six Premier League for Leicester. The forward has been in splendid form in 2021, scoring 13 goals so far this year.
The Foxes, on the back of making the FA Cup final for the first time since the 1960s, got back to winning ways in the Premier League against the relegation strugglers.
Brendan Rodgers men defeated Southampton 1-0 at Wembley Stadium at the weekend, and it was Kelechi Iheanacho who got onto the scoresheet in the 55th minute of the game to send the Foxes to their first final and the FA Cup in over 40 years.
The FIFA under-17 World Cup winner with Nigeria in the 2013 edition of the competition in the UAE, is in rich scoring form of late.
The Foxes scored all the goals in the first-half minutes, with Jamie Vardy scoring first in the 23rd minute, and Johnny Evans got the second 3 minutes later before the final goal of the game in the 36th minutes.
With the win Leicester City are in third position with 59 points from 32 games, four more than Chelsea in fourth as they continue to try to seal their UEFA Champions League places ahead of the blues.
Leicester City manager Brendan Rodgers has said that their destiny lies in their hands, and does not bother himself about the opponents.
"I am not thinking about the other teams [in the race for a top-four spot]. We have to think about ourselves and our matches. We can only control ourselves. This group will sometimes lose games, but they are so honest, and they want to be better. When you have that, it is the dream ticket. It is all you can ask for as a coach." said Leicester boss Brendan Rodgers.
Leicester will face Crystal Palace on Monday, and will be hoping that Iheanacho caeries his fine form into the match.
Leave a comment