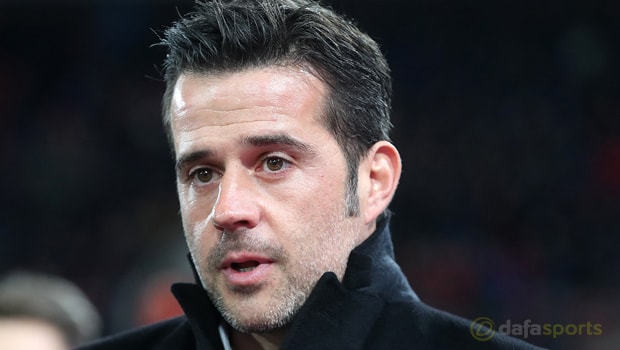 Everton's director of football Marcel Brands says he is excited to strike up a working partnership with new manager Marco Silva.
The Portuguese was confirmed as Everton manager on Thursday after the Toffees missed out on their top target last season when he was still employed by Watford.
Everton turned to Sam Allardyce to steady the ship and he guided the club to a ninth-place finish, but fans were unhappy with his style of play and he was let go at the end of last season.
The Toffees were immediately linked with the out-of-work Silva and after weeks of negotiations they announced his appointment on Thursday.
Brands, who arrived on Merseyside last month as director of football, has hailed Silva's arrival and is hoping to strike up a strong working relationship.
"Marco is a young coach but also an experienced coach," Brands told evertontv.
"He has worked at the top already and has experience of the Premier League, which is also an important factor.
"I think one of the most important things is that he is a guy who wants to play attractive football, attacking football and also wants to work in the structure we have in our mind with Everton.
"I think it is important to work together because we have the same goal – to be the best for Everton.
We have to do that with a very good squad and the coach needs very good staff around him and also an environment where he can trust people around him to do the best job."
Leave a comment