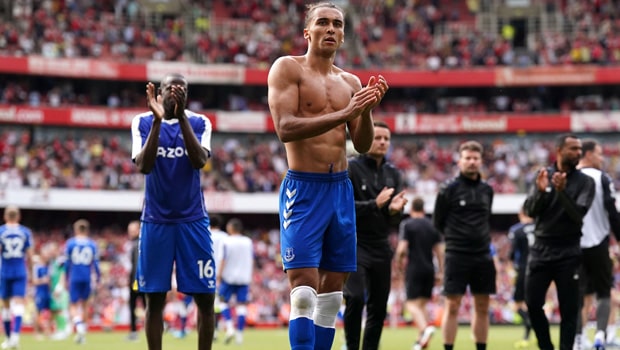 Crystal Palace found themselves up 2-0 at the break with goals from Jean-Philippe Mateta (21′) and Jordan Ayew (36′), but Everton managed to put together a legendary comeback with three goals in the second-half to secure their spot in the Premier League. Michael Keane (54′), Richarlison (75′) and Dominic Calvert-Lewin (85') were the goal-scorers for Frank Lampard's side.
"The character of this club, fans, players just dragged us through," Lampard said immediately after the win. "The spirit of the club was immense. I've got so much thanks for people."
Goodison Park was absolutely thunderous on Thursday.
"It's incredible, one of the greatest nights of my footballing career," Lampard said. "I thought I might cry. It's an amazing night for us."
Calvert-Lewin scored his 50th career goal on Thursday. It was his fifth goal for Everton in the Premier League this season.
Crystal Palace won the possession battle 57-43, but finished with fewer shots overall and shots on target.
"We allowed them to build a momentum and confidence," Palace manager Patrick Vieira said. "It's about managing the game at 2-0 but we gave them hope. We invited pressure which woke up the crowd and then they made it difficult for us. When were 2-0 up, we had the chance to score a third which would've been game over. But the discipline we had in possession in the first half we didn't show in the second. We lost control of the game."
Curiously enough, Palace scored nine goals against Everton in all competitions. Just unable to secure a third win against them.
"These are the types of games which will help us learn a lot," Vieira added. "We started to showboat a little bit instead of playing simple. That comes with maturity."
According to Opta stats, Everton have gained 15 points from losing positions in the Premier League this season. Only Liverpool (17) have more. 38 percent of Everton's points this season have come in games in which they had fallen behind.
"If you're honest you have to fake it, act a bit. Not show your feelings," Lampard said when asked about what he said to the team at halftime. "You have to turn people and inspire them. Dele Alli came on and was amazing. My point was it's not the tactical change, it's the emotions and the character. Can you energize the crowd and score an early goal? Then it's the energy, the players deserve immense credit."
Next season will be Everton's 69th consecutive campaign in the English top-flight league; only Arsenal have a longer active streak (97).
Leave a comment