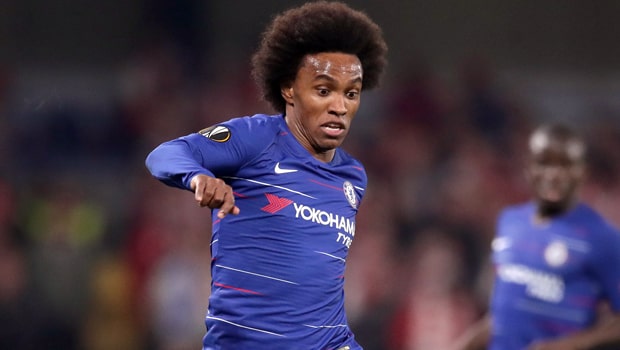 Chelsea midfielder Willian says his side's Premier League rivals will be punished next season if the Blues are continually overlooked.
Chelsea secured Champions League football by finishing third in the league table, before they then won the Europa League on Wednesday night.
Boss Maurizio Sarri continues to be linked with the exit door, but the west London outfit proved their place in Europe. Chelsea's 4-1 win over Arsenal was a big statement for the club and Willian hopes they keep moving forward.
"I think that we are underestimated," Willian told Football London. "I think so. A lot of people, they think Chelsea have no chance to win anything this season because they don't play well or something like this, but we win this important trophy.
"Now we have to enjoy the holidays and prepare for next season. Chelsea want to win titles. Every year Chelsea fight for titles – something important. This year was the same. To finish the season in this way is amazing. I think we did a great job.
"I think there were a lot of ups and downs. At the end we took the third position in the Premier League, we went to the Carabao Cup final and now we win the Europa League final, so if you think about that, you can say it was good. Now it's time to enjoy."
Chelsea are set to lose Eden Hazard this summer but Christian Pulisic has already moved to Stamford Bridge. Despite the imminent blow, Willian says his team will kick on without the Belgium international.
He added: "Of course, it is difficult to lose players like him. But if he goes, Chelsea will do everything to buy or I think here we have players with quality who can continue the job without him.
"He is a special player, a fantastic player, but Chelsea always is like this. The job will continue."
Leave a comment