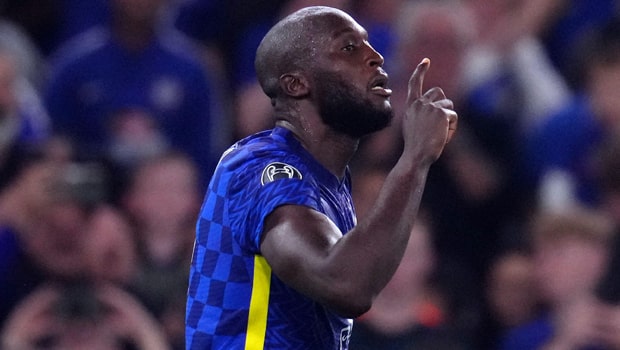 Chelsea got a brace from Romelu Lukaku and a third goal from Mateo Kovacic as they took down Aston Villa, 3-0, to stay on par with Manchester United  with 10 points on the table.
"It's my dream since I was 11 [to score here]," Lukaku said after the match. "I've worked hard for this moment. I'm very happy for the win. It was an important game for us."
Lukaku netted his first goal of the night in the 15th minute before Kovacic made it 2-0 early in the second half.
Kovacic scored for the first time since December 2019.
"We showed the will to win from the first minute and I'm very happy with the result," Lukaku added.
Lukaku secured his brace in the final moments (90′ + 2').
"He was the difference," Chelsea manager Thomas Tuchel said of Lukaku. "He wants to score and he wants to help the team with his goals. He has composure and confidence. He was super important. He adds something to the group that we did not have in this capacity before now."
Both sides employed a 3-4-3 formation, with plenty of near misses for Villa themselves. The final score didn't paint a full picture of how competitive each moment truly felt.
"I'm frustrated with the scoreline," Villa coach Dean Smith said. "But we didn't take our moments. We don't have to come to Chelsea like we would have done two years ago and sit with a deep block. We can now go and ask questions. We did that in the first half. Unfortunately the second goal, a big mistake, took the wind out of our sails."
Villa lost the possession battle 57-43, but had six shots on target compared to four for Chelsea. Villa also had 11 corners compared to just four for Chelsea.
"I believe in this group of players that we've got and we can go toe-to-toe with these teams now whereas two years ago we weren't able to," Smith added.
Tuchel's depth on the roster at each position, along with an efficient attacking striker makes this roster a tough matchup week in, week out.
"In Italy, I was playing in a league where I maybe had one or two chances a game, so I had to take them," Lukaku added. "I'm very happy with the situation I'm in and we keep going.  "Villa were very good and pressed hard, especially us three up front. They made life very difficult for us. It's great. It's a childhood dream for me. I'm very happy in this situation, but the work has to keep going."
Villa look to get back on track next weekend vs Everton. Chelsea have a mid-week UEFA Champions League match vs Zenit coming up on 14 September before a Premier League clash with Tottenham on 19 September.
Leave a comment