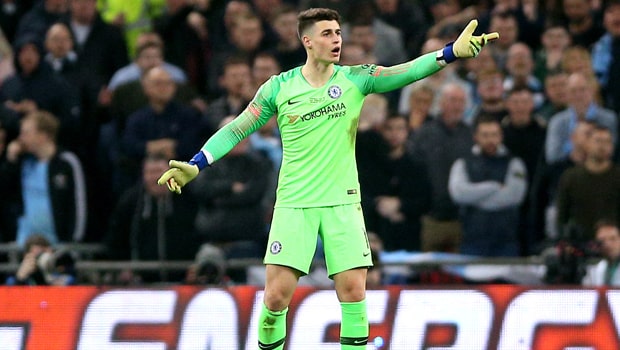 Maurizio Sarri appears to have absolved Kepa Arrizabalaga of any wrongdoing during the Carabao Cup final defeat to Manchester City.
The Chelsea goalkeeper twice went down and required treatment during extra-time and his manager made a decision to introduce replacement stopper Willy Caballero for the impending penalty shootout.
The officials raised the board and Caballero waited to enter the fray, but Arrizabalaga signalled his desire to continue before steadfastly refusing to come off.
As confusion reigned, referee Jon Moss consulted Sarri on the sideline and the Italian consented to leave his goalkeeper on the field.
Chelsea went on to lose the shootout 4-3 at Wembley, with Arrizabalaga saving one penalty from Leroy Sane whilst failing to keep out a weak effort from Sergio Aguero.
Sarri appeared as though he was going to walk down the tunnel with extra-time still ongoing after the Arrizabalaga incident, while the Blues boss appeared angry before the shootout commenced. Afterwards the Chelsea boss suggested it was a 'misunderstanding'.
"I misunderstood the problem and only realised the situation when the doctor arrived at the bench," Sarri said.
"He understood I asked for a change for his physical problem. He said: 'I haven't a physical problem.' And he was right."
Despite many concluding that the goalkeeper had clearly undermined his manager's authority, Arrizabalaga also suggested it was crossed wires.
"It was misunderstood. In no moment was it my intention to disobey or anything like that with the boss," said the 24-year-old Spaniard.
"It was two or three minutes of confusion until the medics got to the bench and they explained everything well.
"He thought I couldn't continue, and – fundamentally – I was trying to say that physically I was fine."
Chelsea are 2.40 to beat Spurs at Stamford Bridge on Wednesday evening. Tottenham are 3.00 while the draw is 3.40.
Leave a comment